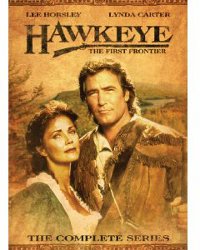 Hawkeye: The Complete Series (Mill Creek)
Lee ("Matt Houston") Horsley is Natty 'Hawkeye' Bumppo and Lynda ("Wonder Woman") Carter is newly-arrived settler Elizabeth Shields in Stephen J. Cannell's adventure series based (loosely) on James Fenimore Cooper's "Last of the Mohicans." Set in 1755 on the unsettled Northeastern frontier as the French and British fight for control, it turns on the attraction between mountain man Hawkeye, raised in the wilds and living between the two worlds of the Native Americans and the British settlers, and Elizabeth, a married woman who is almost widowed in the first episode and remains to run the trading post of the British fort while her husband is held captive by the French (a plot engineered by his brother, the corrupt, scheming Captain of the fort).
This first-run syndication series from 1994 lasted only a season and has an old-fashioned quality to it that fits the show, which was shot in the lush forests of Canada. Horsley was never a great actor but he is a natural physical performer and right at home as the genial outdoorsman with a peaceful nature and a survivalist ethic. And while Lynda Carter (in her last regular series role) does get saved by Hawkeye fairly often, she is resilient and active, standing up for herself as a cagey businesswoman and a frontier inhabitant. Lochlyn Munro and Jed Rees provide the comic relief as a pair of trading post employees with big schemes but little brainpower. Rodney A. Grant gets featured billing as Chingachgook, Hawkeye's Indian brother, but is absent from many of the episodes.