Less than half of Big House, U.S.A. actually takes place in the Big House. It begins and ends in the dramatic landscape of Royal Gorge Park, Colorado. Ralph Meeker quite handily stashes a runaway boy from the local summer camp in an abandoned ranger's station and hides the ransom money (and the boy, who doesn't survive the ordeal) before he's captured and sent up the river. Once inside, it plays like a poor man's Brute Force, with Broderick Crawford plotting an escape with his B-movie cast of cellmates (William Talman, Lon Chaney Jr. and Charles Bronson) and Meeker, shunned by all as a childkiller, is dragged along. They want to recover the hidden loot.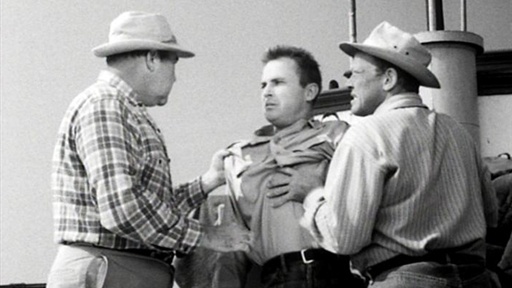 Scripted by John C. Higgins (who penned Raw Deal, T-Men and Border Incident for Anthony Mann) and directed by Howard W. Koch, it's an inconsistent film, with striking imagery, creative twists (scuba gear) and ruthless turns (death by steam tunnel) next to plodding direction and tired first-person narration from Reed Hadley, who plays the colorless but dignified FBI agent on the case. There are some marvelously jagged edges to the tale but Koch fails to create any tension or drama from the material. He has the good luck of finding a terrific landscape wherever he puts his camera in the Royal Gorge scenes, but fails to hide the fact that his underwater scenes take place in the shallows of a studio tank. The visual quality is grainier and coarser than 99 River Street but is perfectly acceptable and quite watchable.
Continue reading on MSN Videodrone for more on the MGM Limited Edition Collection and reviews of The Private Files of J. Edgar Hoover, Rolling Thunder, Futureworld and more.