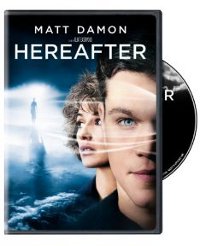 Hereafter (Warner), directed by Clint Eastwood, is (in the words of MSN critic Glenn Kenny) "a film of rather rare ambition… (that) attempts to create a serious drama, as opposed to a genre exercise, out of speculations concerning the afterlife and the supernatural." Working from an original script by Peter Morgan ("The Queen," "Frost/Nixon"), the film follows the odysseys of three individuals touched by death and in profound ways: a reluctant medium (Matt Damon) in San Francisco who can commune with the afterlife but finds it a curse rather than a gift, a French journalist (Cecile de France) who survives a near-death experience (a harrowing recreation of the 2004 tsunami) and a British schoolboy (George and Frankie McLaren) feeling adrift after the death of this twin brother.
To say that the film is about life after death is technically correct, but it might lead you to make assumptions about the film's true focus. It's about the living dealing with death: of a brother, of themselves, of the mourning strangers who come to a psychic seeking communication. It's not about what's on the other side, but how we cope with loss.
Eastwood is one of the last mainstream filmmakers who takes the time to let characters fill out their scenes and the film rolls out at the speed of human life (or at least a more recognizable incarnation of it than films that rush through the in-between bits to get to the jokes or the dramatic point). He directs Hereafter with the measured pacing and dramatic restraint that has marked his work for decades, but he slows this even more to capture the uneasiness of the characters as they find their way through a world that no longer provides comfort.
The DVD features three brief featurettes: "Tsunami! Recreating a Disaster" (the longest of the three at just over six minutes), "Hereafter's Locations – Casting the Silent Characters" and "The Eastwood Experience." The Blu-ray adds six more featurettes plus the complete "extended version" of the documentary "The Eastwood Factor." Written and directed by critic and film historian Richard Schickel and narrated by Morgan Freeman, it's less as a portrait of the artist than a genial tour through Eastwood's career at Warner Bros., an enjoyable visit but frustratingly slim as a documentary. Previously released on DVD, this is the film's high-definition debut. The Blu-ray also includes a bonus DVD version and a digital copy for portable media players.
More on The Switch, Waste Land, Hemingway's Garden of Eden and more.