"Tales From Earthsea" DVD (Disney)
"Nausicaa Of The Valley Of The Wind" Blu-ray+DVD Combo (Disney)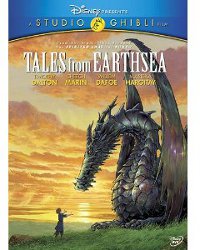 Hayao Miyazaki is a household name in Japan, thanks to such films as "Princess Mononoke," "Spirited Away" and "Ponyo." Stateside, however, he's too often been described as Japan's Walt Disney, a comparison that captures the director's dedication to animated films of wonder and imagination (which extends to all the films from his Studio Ghibli), but misses his distinctive sensibility. Miyazaki is an original with an epic vision, an animist mythology, an environmentally-cons​cious subtext and a dedication to the art of hand-drawn animation that he maintains even in the face of the digital revolution. Disney, fittingly enough, releases two features from his Studio Ghibli this week.
"Tales From Earthsea," based on the "Earthsea" novels by Ursula Le Guin and a concept developed by Hayao Miyazaki, marks the directorial debut of his son, Goro Miyazaki. Miyazaki Pere's influence is very apparent in the themes of nature in balance and the greed of mankind tipping the scales, and the character designs and types are also familiar, with dragons out of Asian culture dropped into a medieval European world of castles and towers. Yet he lacks his father's storytelling richness and narrative sweep, and for all the gorgeous detail of the animation he fails to create much tension or energy. Fans of Ursula Le Guin will have their own problems with the way the film boils down her mythology to a generic fantasy odyssey tale. But there is a visual grace unique to the Studio Ghibli brand, and the dark powers manifest themselves in a weirdness that bends the natural world in unnatural ways.