The Man From Nowhere (WellGo)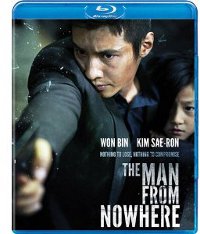 South Korea's top box office hit of 2010 is a slick underworld thriller starring matinee idol Won Bin (of Bong Joon-ho's acclaimed Mother) as a shaggy pawn shop proprietor in a miserable slum who was once a highly-trained government agent and super-spy. When an adorable little girl from the neighborhood, the daughter of a junkie stripper, is kidnapped by the Chinese gangs muscling into the local drug trade, our nameless hero is pulled back into the world he fled years before to save her from the gang's new criminals sidelines in black market organs and child slavery. He  cuts his hair, takes off his shirt and goes on a rampage, never once dropping his stony expression. Not content to just kill these gang members, he punishes them, making sure they suffer before they die, sometimes slowly, always painfully.
Director Lee Jeong-Beom sets this violent, visceral crime thriller of brutal cops and inhuman gangsters in a twilight underworld of drugs and human trafficking, where most of the action takes place at night, often in dungeon-like interiors of abandoned buildings and slum hovels, always in the shadows. The cops here aren't corrupt, but they can be brutal, and are remarkably out of the loop despite all the resources at their disposal. They know more about Cha, despite the military lock on his record, than they do about the criminal organization they have been shadowing for months, and while they get in his way, they are no more than an inconvenience for the one-man army. The rest is predictable stuff, from an icy assassin with a touch of humanity about him to the colorful psychos who dress flashy and laugh their villainous laughs as they wallow in brutality… until our hero comes around to exact retribution.