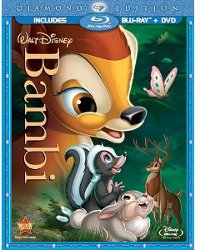 "Bambi: Diamond Edition" (Disney)
Graceful and gorgeous, gentle and fierce, delicate and majestic, Walt Disney's "Bambi" is often cited as the greatest animated film ever made and the crown jewel from the golden years of Disney animation. Agree or not, the fifth full-length animated feature from Disney is a magnificent piece of animated storytelling and a cinematic landmark that has lost none of its wonder or power over the years. Adapted from the novel by Felix Salter and directed by David Hand (under the close supervision of Walt Disney), the story follows the life of a small fawn over the course of four seasons as he develops from childhood innocence (with a menagerie of delightful animal friends) through adult responsibility. Like the best of Disney, the animal characters burst with personality with every perfectly animated every movement and the colors are painted with a delicacy unseen in contemporary animated feature filmmaking. AV Club critic Noel Murray wrote in 2005 that the film "isn't so much animated as illustrated like a vintage children's book, with elegant painted backgrounds occupied by simplified faces." The multi-plane photography is amazing, giving the painted cels a sense of depth and the camerawork a graceful fluidity. And it is the rare children's movie that broaches the subject of death in a meaningful and profound way.
Film Archivist and Home Theater Forum guru Robert Harris likes the new Blu-ray, but as you can read in the comments thread of this forum, Disney's decision to rejigger the colors for a brighter, more modern palette is still the subject of much debate and criticism. As Harris writes, "The re-imagining of the Disney classics has taken its toll, frustrated many who love the originals, and will continue to stir controversy." But home theater critics across the board have given this their seal of approval, including Gary Tooze at DVD Beaver. And, to add my voice to the choir, me. This is a gorgeous and lush Blu-ray presentation.