Regardless of your take on their success as hosts of this year's Oscar telecast (MSN's Kim Morgan was less than impressed but Glenn Kenny cut them some slack), James Franco and Anne Hathaway are the home video stars of the week. Franco's Oscar-nominated performance anchors "127 Hours" (Fox) and Hathaway bares all as the doomed lover in "Love & Other Drugs" (Fox).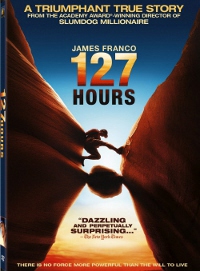 "127 Hours" is a great example of the dramatic film based on the well-known true tale where the success of the execution is not measured in depicting what happened — for we all know that — but, rather, in how," writes MSN critic James Rocchi of Danny Boyle's film of what was considered an unfilmable true story. Franco plays Aron Ralston, an outdoorsman who goes solo for his weekend thrills and ends up trapped and alone in a crevice, his arm pinned by a boulder and his existence suddenly reduced to a sliver of a world. There's not a soul who knows he's there.
The climax is no secret – he has to cut off his own arm and walk out on his own power – because Ralston's ordeal became a major news story and he barnstormed the country to promote his best-selling memoir. What Boyle and Franco offer isn't so much a film as a cinema stunt, a technical exercise in making inherently uncinematic material interesting and compelling, and Boyle and co-screenwriter Simon Beaufoy find interesting ways to open up an inherently internal experience. It's just the subtext of emotional isolation and disconnection that is pat, contrived and unconvincing.