And the award goes to… Now really, what's the fun of second guessing the Academy if you haven't seen the movies yet?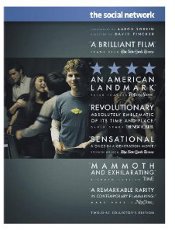 You could, of course, go to the theater to catch "The King's Speech" or "True Grit," and if you happen to live in multiplex-land you may still be able to find "Black Swan," "The Fighter" or "127 Hours" hanging on to one of those screens. (See MSN Showtimes for screenings near you.)
But a lot of the nominees are long gone from theaters. The good news is that many of them are available for home viewing on DVD, Blu-ray, digital download and/or pay-per-view. Here's a list of those you can see now on a small screen near you.
"The Social Network" (Sony) – With 8 nominations, including Best Picture, Best Director, Best Adapted Screenplay and Best Actor (Jesse Eisenberg), this is the film that dominated the critics and awards groups leading up to the Oscars and still the favorite to take home the top gold. The DVD and Blu-ray releases (reviewed here) are superbly produced and feature a top notch documentary on the making of the film.