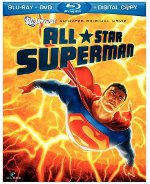 "All-Star Superman" (Warner)
I have become a fan of the DC Universe Animated Original Movies, a series of direct-to-DVD (and Blu-ray) features based not just on DC comic heroes but, in most cases, specific creative comic book runs by some the genre's most interesting talents. This 76-minute film synthesizes the 12-issue mini-series by writer Grant Morrison and artist Frank Quitely that embraces the pulp fun of golden age Superman with a modern grace and a mythic dimension. It's not a reboot or an alternate universe, just a couple of creative artists offering their version of the ultimate Superman story with the humanity and humility of the Man of Steel coming through between the battles with giant monsters, alien invaders, minor gods and major supervillains, notably the final solution of Lex Luthor. "You'll die," our hero (in the alter-ego form of Clark Kent) warns Luthor when he hears his plan. "Ahh, but he'll die first," smiles the mad villain.
The artwork is designed to suggest the gentle, delicate style of artist Frank Quitely, but brought down to the minimalist detail and heavy lines of direct-to-DVD animation it more often evokes anime in an American vein… which, in its own way, works for this project. And new voice actors are cast in the leads: James Denton as a strong, confident yet humble Superman / Clark Kent, Christina Hendricks as a modern Lois Lane, Anthony LaPaglia as Lex Luthor and Edward Asner as a cantankerous Perry White. It's part of what makes the DC Universe Animated Original Movies consistently interesting: just as the characters shift and storytelling approaches change with the creative personalities on the comic books, these films embrace the different sensibilities of the original stories by allowing new actors to reinterpret the characters in this new vein.