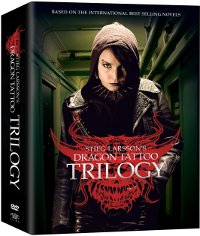 "Stieg Larsson's Dragon Tattoo Trilogy" (Music Box)
Stieg Larsson's Millennium Trilogy, a trio of novels that teams up a disgraced journalist with a punk hacker, has become a genuine international phenomenon. American screen adaptations are in the works (David Fincher is currently shooting in Stockholm) and I'll be interested to see what a director of his intelligence and cinematic creativity does with such meaty material. Meanwhile, the entire original Swedish film trilogy is now boxed up in a new edition on DVD and Blu-ray from Music Box.
Fans of the book were disappointed in the workmanlike adaptation of "The Girl With The Dragon Tattoo," but the film works nonetheless thanks to a strong story and Noomi Rapace's downright feral incarnation of Lisbeth Salander, an angry delinquent that life has hardened into a ferocious young woman. She's got to be hard to survive this predatory world, even before she get involved in a decades old murder mystery that stirs up old secrets. Michael Nyqvist gets top billing as the ostensible hero of the story, investigative journalist Mikael Blomkvist, who comes out of prison after serving time for libel (he was framed, natch) and agrees to take the cold case, but Salander, who uses her hacking skills for freelance investigations for clients who don't care how she gets her information, takes an interest in Mikael, which is the first altruistic act we've seen from her… even if it is a matter of vengeance. And vengeance is something she knows about, and exacts with fury.