"Huge: The Complete Series" (Shout! Factory)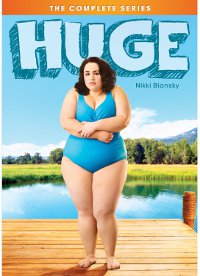 Developed by Winnie Holzman (creator/producer of "My So-Called Life" and "Once and Again") and her daughter, Savannah Dooley, and starring Nikki Blonsky (of the remake/musical version of "Hairspray"), this original ABC Family Channel series tackles some hefty issues (pun intended) through the stories of a handful of kids at "fat camp," a summer camp designed to help overweight teens lose weight.
This is a social environment filled with kids who have been bullied, ridiculed and shamed into thinking themselves ugly and awkward outcasts and many of them arrive with a reflexive instinct to avoid confrontation. Not so Blonsky's Will (short for Willamena), an angry teenager who is furious at being forced to attend camp and rebels against authority with a ferocity that makes her a hero of many of the kids. In the opening scenes, as the kids are forced to get down to their swimsuits for initial weighing in and "before" photographs, she flaunts her figure with a pride that impresses her fellow campers and promises to "gain weight" over her stay. Yet while she thrives on conflict and lives her life loud and proud, she also struggles with the feelings of shame her parents have heaped in her.