For reasons beyond my understanding, the last full week of the month is a cornucopia of specialty releases, including foreign language films. This month is no different, and in addition to this week's releases, I've also caught up with a few late-arriving imports here. Pull out your home video passport and lets travel.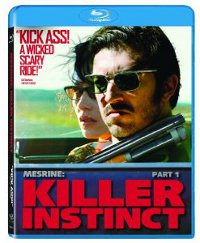 "Mesrine: Killer Instinct" (Music Box)
Vincent Cassel is Jacques Mesrine in the first part of the violent "Mesrine Saga," which chronicles the storied life of France's most notorious gangster. And this is indeed a gangster movie, a period thriller set in the sixties and seventies (the era of Mesrine's criminal blaze of inglory) but reminiscent of the classic gangster era, where returning soldiers falling through the cracks of the American dream picked up a gun and took their piece of the pie. The Mesrine of Jean-François Richet's film was turned into a killer from his service in Algiers (where he was ordered to torture and execute prisoners) and returns restless and furious, but it's not just anger that fuels his criminal life. He feeds on the adrenaline of the criminal life, turning himself into a rock star of a outlaw as he robs banks, kidnaps a millionaire, breaks out of prison, breaks back in and leaves a trail of bodies in his wake, from France to Canada and the United States and back.
More on Room in Rome, The Temptation of St. Tony, A Time For Drunken Horses and others.  Continue reading on MSN Videodrone.