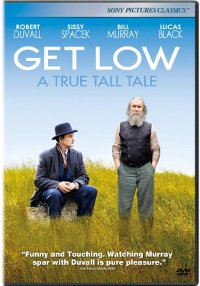 "Get Low" (Sony) is an endangered species: a movie made for grown-ups. A lovely film about regret, self-punishment and redemption on a scale both human and mythic (or at least American folkloric), it's a feature with the personality of a short story, filled with quietly offbeat characters and directed with a deft balance of comedy and tragedy.
Which is why it had a tough time finding an audience in this era of high-concept blockbusters and star-studded "serious" dramas. But those very qualities are exactly what make it such a film home viewing experience, where this lazy river of a big screen short story can settle in at its own speed. In the intimacy of home, these marvelous characters can become guests sharing their stories.
Robert Duvall is Felix Bush, aka "the mysterious hermit of Caleb County," a cantankerous creature who arranges to have his funeral before he dies and invites the entire country to attend. Ostensibly he wants to hear the stories everyone has to tell (and there are plenty, most of them elevated to the level of rural myth). But in reality, he needs to finally tell his own story, which has been locked in his heart as part of his self-imposed sentence.