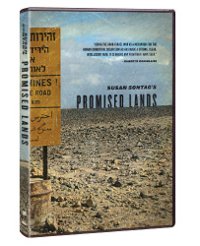 "Promised Lands" (Zeitgeist), the sole documentary from writer, critic and filmmaker Susan Sontag, is a portrait of Israel shot in the final days and immediate aftermath of the 1973 Yom Kippur War. Banned by Israeli authorities upon its initial release, it was unavailable in any form until its 2010 limited theatrical re-release and makes its home video debut. Read a review of the disc from Glenn Erickson at DVD Savant: "Its as if Sontag were trying to take a snapshot of an entire country at a particular place and time."
"William S. Burroughs: A Man Within" (Oscilloscope) profiles the legendary beat writer and icon with rare archival footage and interviews with colleagues and friends. Entertainment Weekly. Boston Globe film critic Ty Burr calls it a "breezily stylized, very enjoyable trot through the writer's life, theme by theme, era by era." The DVD features deleted scenes, additional home movie footage and other supplements.
Plus Storm Warriors, The Last Lovecraft and Mystery Science Theater 3000 releases.