"Doctor Who: A Christmas Carol" (BBC)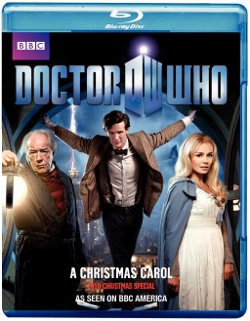 It's Christmas in February!
For the 2010 "Doctor Who" Christmas Special, series producer Steven Moffat scripts a Doctor Who version of "A Christmas Carol," which means he rewrites Dickens with a wicked ingenuity. This Scrooge (played by Michael Gambon, Harry Potter's Dumbledore) is a rich despot who controls the weather of a planet where man-eating fish swim the ice clouds above and the Doctor races against time (while he travels back and forth through it) as the Ghost of Christmas past, rewriting his history to melt his heart and save an interstellar passenger liner from crash landing. Mezzo-soprano Katherine Jenkins plays the love of his life and sings to the sharks and Karen Gillan and Arthur Darvill (as companions Amy Pond and Rory Williams) bop and out of the story.