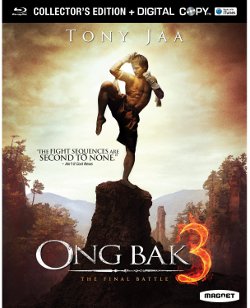 "Ong Bak 3" (Magnolia) – Thailand's Tony Jaa may be no actor but he is a force of nature when he unleashes his martial arts prowess on screen. The third film in his trademark series begins where the second ends and sends the beefy young martyr on a vision quest to rediscover his grace and then return to kick epic butt in a smackdown with an ancient supervillain and his army.
If there is a signature to Tony Jaa's films (apart from his distinctive fight style) it is elephants and they are a big part of this film, from the stone creatures brought to life to shrug off a castle built on their haunches to a small army that sides with our hero in the final battle. The rest is a mix of action spectacle, period detail, hero's odyssey cliché and narrative incoherence, directed with a soberly serious, mannered grandiosity: almost as many slow motion shots of our pensive hero posing with the wind gently blowing his hair as there are slow motion fight clips. Available in movie-only DVD and two-disc DVD and Blu-ray specials which feature Thai language interviews and featurettes and an American promotional short.
"Repo Chick" (Industrial Entertainment) – The new film from Alex Cox is not a sequel to his cult classic "Repo Man" but a thoroughly screwy social satire starring Jaclyn Jonet as a spoiled rich kid and tabloid celebrity who takes a job in a repo firm and ends up cracking a kidnapping conspiracy involving a ghost train and a plot to outlaw golf. Working on a zero budget with old friends and collaborators (including Miguel Sandoval, Del Zamora, Chloe Webb, Xander Berkeley, Rosanna Arquette and Robert Beltran) pitching in a couple of days here and there, he shoots in minimal sets with digital backgrounds dropped in, most of them cobbled together from toys and miniatures. Cox flaunts the unreality of it all (from absurd plot to caricatured cast to bizarre visual design) with such boldness and sense of fun that I ended up embracing it all. It's a slight little thing, but fun. Includes a featurette.