"Doctor Who: The Movie – Special Edition" (BBC)
The original BBC "Doctor Who" series ended in 1989 after 26 seasons, with Sylvester McCoy as its final Doctor. The 21st Century BBC revision began in 2005 with Christopher Eccleston as The Doctor and is still going strong with Matt Smith as its third incarnation of the last of the Time Lords. But there was one Doctor in the sixteen-year hiatus between the shows: Paul McGann, reborn from the death of McCoy's incarnation when he lands in San Francisco on New Year's Eve 1999.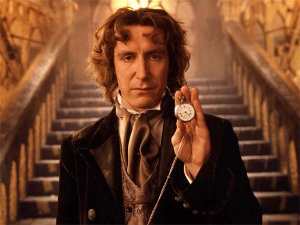 Yes, this 1996 TV-movie, a BBC co-production with American partners, dropped The Doctor in modern America with an American TV noir visual style, in the hopes of launching a new stateside incarnation of the series on the Fox network. What was supposed to be the pilot of a 12-episode order ended up a one-off that, in retrospect, plays like the missing link between the original run and the 21st Century BBC revision, or maybe an evolutionary offshoot that never thrived. It has sophisticated special effects (for its era) and urban attitude, but at the expense of whimsy and invention, yet it still feels more like a British production with an American guest cast than an American network show.
McGann (who was cast on the strength of his wicked performance in "Withnail and I") makes a fine doctor, both dignified and playful with a touch of tragedy (as the newborn/reborn Doctor arrives with no idea of his identity or his legacy) and as fashionably idiosyncratic as his predecessors, and he thoroughly earns the title of The Eighth Doctor with this single appearance. Eric Roberts is the bad guy here, an EMT possessed by The Doctor's arch-nemesis The Master, and Daphne Ashbrook (the sister of "Twin Peaks" actor Dana Ashbrook) is the heart surgeon who appears to sign on as his new Companion. And the most distinctive contribution to the Whoniverse: a TARDIS of unimaginable depth.
More on Doctor Who: The Movie, plus The Guardian: The Final Season and TV movies.