It's a small week for small screen arrivals on DVD but two new British shows debut on stateside home video.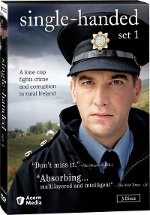 Single-Handed: Set 1 (Acorn) chronicles the travails of a Dublin-trained Garda Sergeant (Owen McDonnell) who returns to his home town on the windswept west coast of Ireland and takes his father's post as top cop in a community used to doing things their own way, usually with the tacit approval of the police. He discovers that he's on his own in this culture. Even his own father has something to protect. "Here, the west-of-Ireland sky is by no means the only thing that's dark and threatening, writes Telegraph TV critic James Walton. "The plotting is too, and so, more bravely, is the depiction of rural life." Three feature-length mysteries on three discs.
Garrow's Law: Series 1 (Acorn) is a legal drama set in  the Old Bailey 18th-century London, starring Andrew Buchan as an idealistic young barrister who tries to drag the corrupt system into the modern era of legal jurisprudence as he defends the accused against the power of the system. Fight the power, baby! Alun Armstrong plays his mentor and Rupert Graves is his aristocratic nemesis. Four episodes on two discs.