"Alice in Wonderland: 60th Anniversary" (Blu-ray+DVD Combo) (Disney)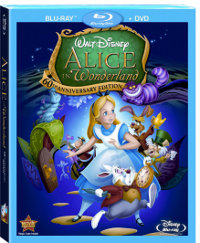 Disney's 1951 animated adaptation of both of Lewis Carroll's Alice novels ("The Adventures of Alice in Wonderland" and "Through the Looking Glass") streamlines the story for a trippy bounce down the rabbit hole. A flop upon release, it was rediscovered by the drug generation in the sixties and finally embraced as a Disney classic-lite by subsequent generations. You could see it as a juvenile acid trip: innocent little Alice imbibes strange food and drink which makes her grow and shrink, talks with a cat that has a tendency to dissolve in front of her eyes and takes advice from a caterpillar puffing on a water pipe. But let's not get too far down that path.
Like most of Disney's animated features, it gets rolled out every seven years or so in a new edition. This year it bows on Blu-ray in a brilliant new master. For this look, I turn to the experts for guidance.
"Quite a massive jump in color saturation and vibrancy in the new 1080P transfer of Disney's 51′ classic Alice in Wonderland," writes Gary Tooze at DVD Beaver, a site that specializes in measuring and surveying the technical quality of the discs under scrutiny. "Reds, blues and yellows are notable improvements, there are no unseemly jaggies – as well as a dramatic improvement – it looks flawless – almost as if it were brand new." A gallery of screen shots from the new Blu-ray edition and the previous DVD releases contrasts the visual quality and the palette, with the Blu-ray indeed brighter, sharper and more cleanly saturated.