Alice in Wonderland: 60th Anniversary (Blu-ray+DVD Combo) (Disney) debuts on Blu-ray this week and you can check in on the debate over the bright, crisp new master at the "Expert Witness" posting here.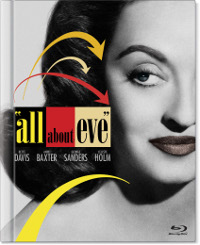 Here are some of the other high-definition highlights this week…
"Fasten your seat belts, it's going to be a bumpy night." All About Eve (Fox), Joseph L. Mankeiwicz's acerbic view askance at the Great White Way, is the writer/director's Citizen Kane, a little less complex (both visually and narratively) perhaps, but masterful in its own way in its cynical portrait of ambition on the boards. The barbed dialogue is witty and wonderful, delivered with tart insolence by Bette Davis as an aging Broadway lioness who watches ruthless cub Anne Baxter pull out her claws as she charms and insinuates herself into stardom. Even more seductively sinister is George Sanders, marvelously acerbic as a cultured but conniving critic whose every word oozes arsenic. Nominated for a record 14 Academy Awards, it went home with six, including Best Picture, Best Director and Best Screenplay (Mankeiwicz), and Best Supporting Actor (George Sanders). The 1950 classic bows on BD in Fox's version of the Blu-ray book that Warner has been using for its upscale classics, with 24 pages of stills and notes and a pocket for the disc to slip into on the inside back cover. A nice alternative and gentle yet snug disc protection.
The film has been released in two DVD special editions and the Blu-ray includes the supplements from the most recent two-disc release, including two commentary tracks (one by star Celeste Holm, director's son Christopher Mankiewicz, and Mankiewicz biographer Kenneth Geist, the other by Sam Stagg, the author of the book "All About "All About Eve""), five featurettes (the 24 minute "AMC Backstory: All About Eve," the traditional interview-based "Directed by Joseph Mankiewicz" and "Joseph L. Mankiewicz: A Personal Journey," "The Secret of Sarah Siddons," about the theatrical society inspired by the film, and "The Real Eve," which reveals the real-life inspiration for the short story and the film with gossipy details), archival promotional shorts, newsreel and TV footage and an isolated music track.
More on Almost Famous: The Bootleg Cut (Paramount), An Affair to Remember (Fox), 10 (Warner) and more. Continue reading at Videodrone.