You might say that genre films take a turn for respectability this week. "Let Me In" (Anchor Bay), an American remake of a moody and inventive Swedish horror film, is if anything even more measured and artfully executed than the original, and it's one of the best American films of the year despite what the Academy Awards say (read my full review here and see it on MSN's Best of 2010 lists here).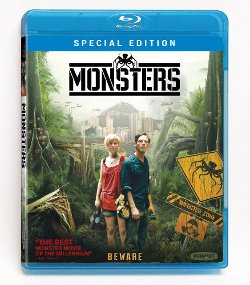 On a much lower budget comes the ambitious "Monsters" (Magnet), almost DIY guerrilla monster movie set in a near future where an infection from outer space has spawned a veritable Jurassic Park in Northern Mexico and the most of the country has been quarantined off. Director/writer Gareth Edwards is also the cinematographer and visual effects man and thus can take full credit for the impressive visual creation. Not just the aliens (which look like an unholy mutant offspring of squid, lobster and crustacean) but the whole atmosphere of military occupation, post-war devastation and losing battle against what appears to be the next dominant species. Even the mother of all border fences isn't going to keep them out. And yes, the metaphors abound, they just don't always work as well as those in "District 9." But give Edwards props for making the effort, and for so effectively creating a convincing portrait of the world under siege from a slow, evolutionary invasion.
The supplements on this disc are all about the physical accomplishment, which is at it should be: this should be a primer how and why to use special effects on a resource-starved film. There's commentary, a 70-minute documentary that follows the shoot practically day-by-day and a 34-minute featurette on the visual effects among the toybox of supplements. See Glenn Kenny's review on MSN.
Rounding out the genre bash in New Releases is "Never Let Me Go" (Fox), which plays like one of those oh-so-tasteful works of literature in the guise of science fiction, by an author more interested in symbolic representation than making sense of the concept. Mark Romanek's film based on the novel by Kazuo Ishiguro, is a study in willful conformity that works as far as it does thanks to terrific performances by Carey Mulligan, Andrew Garfield, Keira Knightley and Charlotte Rampling. MSN's James Rocchi likes it better than I do, so by all means check out his take as well. The DVD and Blu-ray includes a half-hour making-of featurette.