Eight films by the German auteur that you can view at home.
The Film Forum in New York begins the two-week retrospective "Fritz Lang  in Hollywood" which, as the title explains, surveys the German legend's work during his American exile: all 22 films he made in the United States between 1934 to 1956, in 35mm. It's the film event of the moment in New York (see Manohla Dargis in The New York Times,  J. Hoberman in The Village Voice, Cullen Gallagher at Moving Image Source, Dan Callahan in The L, and so on).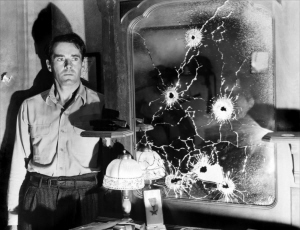 Those of us outside of the Big Apple may not be able to join the crowds for the glory of such classics (both major and minor) projected on the big screen, but Fritz Lang is a filmmaker well represented on DVD so here's my suggestion for your own festival: the best of Fritz Lang's American films, designed for maximum small screen pleasure.
Fury (1936)
Fritz Lang's American debut is an indictment of lynch mob justice starring Spencer Tracy as an honest man wrongly arrested and left to burn to death in a prison blaze started by a vicious mob of normal American citizens whipped into a frenzy of vengeance while his bride-to-be (Sylvia Sidney) watches, terrified and helpless. He escapes, though he's believed to have perished in the fire, and from hiding he plots his revenge on the mob by indicting them for murder. It was the first of his loose trilogy of social justice starring Sidney (she returns in the equally searing "You Only Live Once" and the lighter "You and Me") and it grabbed audiences by the lapels with its frank dramatic confrontations. The Warner features commentary by film historian Peter Bogdanovich, with excerpts of his archival audio interview with Fritz Lang. (Warner)