Most TV shows wait for a full season to roll out episodes on DVD. Not so Glee, a pop phenomenon and a cult hit with such a hold on fans that Fox rolls out the first half of the season as the second half picks up. And so this week we get Glee: Season 2, Volume 1, featuring ten episodes on three discs.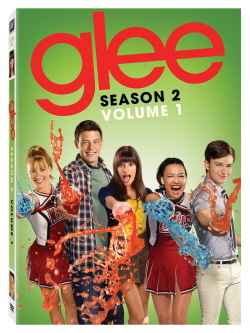 This run of episodes features the Britney episode (with Britney Spears herself making a cameo in the gas-induced hallucination musical numbers), "The Rocky Horror Glee Show" (directed by Adam Shankman and featuring cameos by Barry Bostwick and Meat Loaf Aday) and Gwyneth Paltrow belting out the radio version of Ceelo Green's "Forget You" as substitute teacher turned temporary Glee coach Holly Holiday, and ends with a Glee Christmas episode where the Glee club of misfit toys meets Sue Sylvester's Grinch (complete with green face paint).
But for all the romantic pairings (and a wedding episode top boot!), the storyline that grabbed fans and media attention is all about Kurt (Chris Colfer), the sole openly gay student in a Midwest high school where jocks rule and the cheerleading squad is national champion. Last season, Kurt's blue-collar father's unconditional love and support gave the character—and the show—a tremendous foundation. This season tackles bullying with a vengeance. Where the Glee members are routinely picked on (the slushy shower has become part of their life), the abuse that one football player heaps on Kurt crosses the line into social terrorism and he transfers to a private boy's school with a zero-tolerance policy toward bullying and prejudice. And he finds a potential boyfriend in an out and proud fellow student and star singer in his new school's glee club. For the Christmas episode, they duet on "Baby It's Cold Outside," offering two gay men sharing a love song on network TV without playing it as a joke. If it's not a landmark, it certainly is a significant moment. It's also a superb performance and really, if this show is about anything, it's harmony.