Takers (Sony), the GQ caper film with Idris Elba, Michael Ealy, Hayden Christensen and Chris Brown, and Stone (Anchor Bay), a solid character drama starring Robert De Niro and Edward Norton, are the "marquee" films of the week and reviewed on MSN (Takers here and Stone here) but Animal Kingdom (Sony) is turning out to be the most noteworthy, thanks to all the awards and nominations racked up by Jacki Weaver.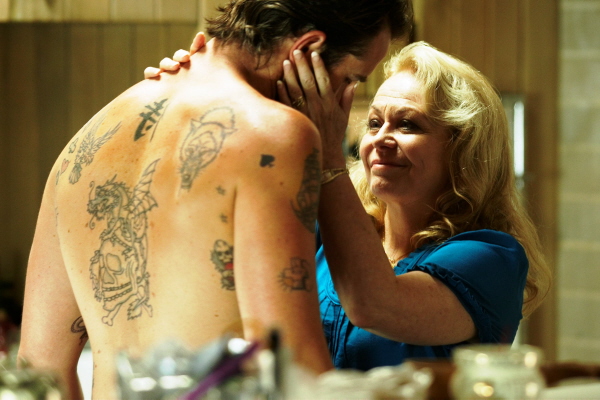 Melbourne provides the jungle for Animal Kingdom (Sony), an urban crime story about a dysfunctional family of criminals barely holding it together between jobs: the eldest (Ben Mendelsohn) is a killer in hiding, the middle brother (Sullivan Stapleton) is constantly high, the youngest (Luke Ford) useless and Mama Janine 'Smurf' Cody (Jacki Weaver) is a cooing sociopath who will do anything to protect her boys from everything but themselves. The feckless nephew (James Frecheville), adopted into the family when his mom dies from an OD, watches on blankly until they decide he knows too much.
It's a strange film in that the narrator is a veritable blank, a blank hole of a character who passively shuffles through life (he barely looks up from watching TV as medics try to revive his dead mother) and only rouses himself from his stupor when his own life is in danger. Guy Pearce is the detective who reaches out to the kid, but in this culture of police corruption, he's in no position to keep his promise to protect him. Set in the 1980s, an ear of out-of-control crime and rampant police corruption, this is as unglamorous a family crime thriller as you'll see, but it is Weaver's insidiously manipulative mother hen with viper's teeth that makes it so riveting.
Features commentary by director David Michôd and the feature-length documentary "The Making of Animal Kingdom," an in-depth production that features all of the stars in addition to writer/director Michôd and producer Liz Watts. Also features a half-hour on-stage Q&A with Michôd, producer Watts and actors Weaver and Sullivan Stapleton (Weaver is introduced to the audience as "a national treasure in Australia").
I interviewed Jacki Weaver for MSN on my new Videodrone blog here.
Army of Crime (Kino Lorber) – Don't let the title throw you. The heroes of Robert Guédiguian's based-on-a-true-story French war drama are not The Dirty Dozen unleashed on the Nazis but a remarkably effective resistance cell formed of French Jews, communists and immigrants—the very "undesirables" targeted by the Nazis for the camps. Guédiguian's previous films—at least ones I've had the good fortune to see—have been small dramas about communities of immigrants, underemployed and outcasts that pull together and to maintain their identities. Army of Crime offers a much bigger canvas—and a setting with profound resonance—for that theme to play out, and Guédiguian invites members of his stock company to fill out major roles.
Simon Abkarian is the Armenian poet, Communist and pacifist who leaves a concentration camp with a lie and takes up arms to lead a team of members not known for following orders, Virginie Ledoyen his devoted wife and partner and Robinson Stévenin and Grégoire Leprince-Ringuet the reckless but passionate daredevil partisans under his command. Their stories play out slowly, the better to let the oppressive culture of occupied Paris (and of the widespread collaboration of police who support the racial policies, if not the authoritarian structure, of the Nazis occupation) sink in while sowing the tensions between the Communist leaders of the resistance and the non-Communist soldiers who fight for their own reasons: vengeance, defiance, love of country and the simple act of self-preservation under a regime dedicated to eradicating their existence. By the time the unit forms, you are ready for them to take the offensive, even as we know how it ends: the film opens with a spoken memorial to their sacrifice.
Guédiguian regular Ariane Ascaride has as a small but palpable role as a maternal supporter who pretends not to understand the danger to her son and Jean-Pierre Darroussin (another familiar Guédiguian face) is a French detective who gets a promotion for his stellar work in arresting partisans and sees firsthand how his fellow Frenchman are tortured for information. What looks like the beginnings of a transformation, however, turns into a wrenching portrait of racial politics trumping national identity… or human identity, for that matter.
Features interviews with director Guédiguian and stars Simon Abkarian and Virginie Ledoyen. In French (with some German) with English subtitles.
Roger Corman's Cult Classics: Sci-Fi Classics Triple-Feature (Attack of the Crab Monsters / Not of This Earth (1957) / War of the Satellites) (Shout! Factory) – Shout! Factory has been rolling out a lot of films under the "Roger Corman's Cult Classics" banner in the past year or so, but this is the first collection to feature films that the legendary producer actually directed himself. This triple feature dips into the ultra-low-budget films of the fifties he turned out with regularity for the drive-in and second-feature market. There isn't a film that runs over 70 minutes in the bunch, and the shortest is barely more than an hour.
The 1957 Attack of the Crab Monsters, starring Russell Johnson as an engineer turned action hero and a giant mutant crab with psychic powers, is a bizarre entry in the post-atomic giant creature features with a twist of ghost story. As a team of scientists wade ashore (there isn't a boat to be seen, just another budgetary reality) the beach of a South Pacific island to test for radiation in the wake of atomic bomb tests, the truly weird looking crab monster of the title (singular, not plural) devours a couple of scientists (as well a good chunk of the beach) and absorbs their minds as well as their flesh. Soon he's sending telepathic messages in the voices of the dead scientists to lure the rest of team into his claws. The creature effects are pretty darn cheesy but better than the budget would suggest and the Charles Griffith script keeps things moving, if not always engaging.
The original 1957 Not of This Earth, an alien invasion film with dimensional portals and cold-blooded vampirism, adds an eerie dimension to the otherwise drab sets and off-the-cuff location shooting, thanks in part to photography by Hollywood legend John Mescall (Bride of Frankenstein and The Black Cat). Beverly Garland helps bring a little class to the film as a nurse who knows the score and knows how juggle multiple suitors and Jonathan Haze (nebbish star of the original The Little Shop of Horrors) is the streetwise Man Friday to the mysterious boss (Paul Johnson), an alien who hides his glowing eyes behind dark glasses and needs human blood to survive. Somehow Corman makes it all work, even the purely expositional dialogue scenes. Morgan Jones and William Roerick are both fairly colorless as Garland's dueling suitors but she makes up for it with a knowing authority and a feeling that she's having fun playing them off one another, especially when she turns a date into a threesome to discuss the strange case of the mysterious patient. And I give credit to Corman for making those scenes, of not actually sizzle, at least spark a little.
Corman regular Dick Miller takes a rare lead in the 1958 War of the Satellites, which pits American astronauts against aliens determined to keep humans from sending rockets into space. When mission after manned mission ends in destruction when the rockets collide with an invisible force field around the Earth, one final mission is planned to examine the net, but the aliens put a spy on board (by taking over the body of a dead scientist) to sabotage the mission. The actors spend most of their time running around the minimalist sets and empty hallways of a rocket interior that looks more like a small office park. But at least Miller is around to energize what action there is. This is the only film in the set not scripted by Griffith and his B-movie sensibility is missed, though Corman still manages to keep the film bouncing through the cut-rate sets and primitive space effects, accomplished with what look like repurposed toys.
All three features are mastered from clean, well-preserved prints and look remarkably good for low-budget productions made outside the studio system. The earlier films are widescreen and Satellites is Academy ration (1.33:1) and mastered from a British theatrical print. The two-disc set features commentary on the first two films by film historians Tom Weaver, John Brunas and Mike Brunas, plus the 25-minute interview featurette "A Salute to Roger Corman," with Corman "graduates" Joe Dante, Peter Bogdanovich, Peter Fonda, George Hickenlooper and Harry Dean Stanton (among others) discussing Corman's career as a producer and a collection of 25 Corman trailers.
Fire on the Amazon (Anchor Bay) – A lot of Hollywood stars have less-than-proud beginnings lurking in their filmography. Newly-anointed Academy Award winner Sandra Bullock has nothing to be ashamed of for this jungle thriller produced by Roger Corman and directed by Luis Llosa (who went on to make Anaconda), but nothing to be particularly proud of either. It's a generic adventure of corruption and resistance in a Third World country with an environmental theme, a hallucinogen-fueled love scene (between activist Bullock and cynical American journalist Craig Sheffer) and a wicked blowgun assassination, and more competently-made than most of Corman's New Horizons productions. No supplements to celebrate the Blu-ray debut, however.
I review Death Race 2 (Universal), direct-to-video prequel to the 2008 Death Race, on the blog here.
Also new on DVD: the high-concept thriller Buried (Lionsgate) with Ryan Reynolds buried alive in a coffin, Philip Seymour Hoffman's directorial debut Jack Goes Boating (Anchor Bay), 2009 Venice Film Festival Golden Lion Award Lebanon (Sony), the documentary Sins of My Father (Pecados de mi Padre) (Maya Entertainment) and Roger Corman's Cult Classics: Up From The Depths / Demon Of Paradise Double-Feature (Shout! Factory), featuring a pair of films from Cirio H. Santiago.
For TV on DVD for the week, see my wrap-up here. For the rest of the highlights, visit my weekly column, which goes live every Tuesday on MSN Entertainment.