The box-office picture of the week is the sequel/remake/reboot Predators (Fox), from producer Robert Rodriguez and director Nimród Antal, which I review at MSN, and my belated coverage of the new Warner Humphrey Bogart DVD set and Blu-ray debuts is here. At the other end of the genre spectrum is the sleazy sword and sandal and sex double feature The Warrior And The Sorceress / Barbarian Queen Double Feature (Shout! Factory), which for some reason I was compelled to write about on the blog here. As for the rest…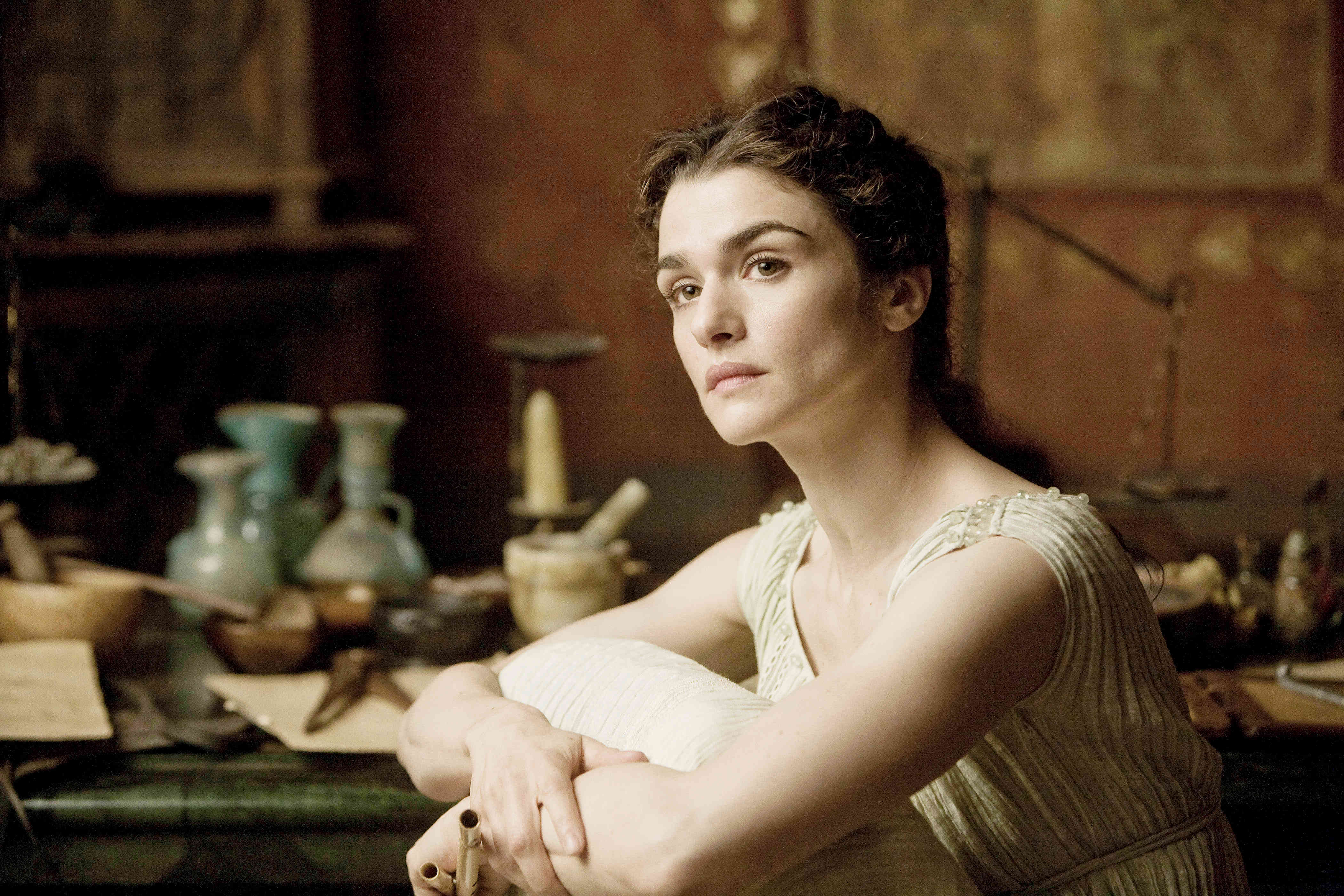 Agora (Lionsgate) – Set in the 4th century Alexandria, just before the fall of the Roman Empire, Alejandro Amenábar's historical drama (inspired by a true story) reminds us that intellectual idealism has collided with political power and religious extremism for as long as there has been either. Rachel Weisz stars as the philosopher scientist Hypatia, the rare woman scholar and political advisor in a world where education and office was limited to men. She's "tolerated," as it were, because her father was a great scholar and she is a magnificent teacher. It's true that some of her pupils, all male, may have initially come to gaze upon her beauty, but her graduates become the most important leaders of their time and her teachings have tremendous influence. At least for a time.
It's an intellectual costume drama that recognizes the limitations of the era and the contradictions within its characters while celebrating the theme of thinkers seeking truth by constantly observing, questioning and challenging accepted wisdom. And it addresses the dangers of blind faith and religious fundamentalism shutting down any perspective that doesn't support its doctrine. The prejudices of Roman society (and they are great—even Hypatia, the idealistic seeker of knowledge, accepts slavery without question) are nothing compared to intolerance of the Christian fundamentalists taking over the city. It's disconcerting how much these early Christian fanatics look and behave so much like the Islamic extremists presented in the media, and perhaps that's one reason the film didn't sit so well with some American audiences.
The film is in English but the thoughtful commentary and introduction by director Alejandro Amenabar is recorded in Spanish with English subtitles. There's also the hour-long making-of documentary "Journey to Alexandria," deleted scenes and storyboards.
Please Give (Sony) – Nicole Holofcener's prickly comic drama of self-absorbed New Yorkers is at once savagely satirical and strangely sympathetic, a portrait of life in the competitive urban culture of New York where real estate values, fashionable jeans and trendy mid-century modern furniture make everyone a little cutthroat and confused about their real values. The humor is acerbic and at times discomforting, as likable actors portray self-involved characters who are more polite to strangers than they are to their own family, but Holofcener manages to keep us interested enough to follow them through their tangled odysseys until they break through with an act of generosity, kindness or simply an acceptance of their vulnerabilities. Catherine Keener, Rebecca Hall, Amanda Peet and Oliver Platt star. The 12-minute "Behind the Scenes of Please" featurette offers more insight to the creative process than many longer supplements. Also feature four brief but interesting "Q&A with Director Nicole Holofcener" clips and outtakes.
Holy Rollers (Vivendi) – Before Jesse Eisenberg was Facebook founder Mark Zuckerberg, he played Sam Gold, an impoverished young Hasidic Jew who, out of frustration and ambition, becomes a drug mule and a player in the New York ecstasy trade. Behind the familiar rise and fall tale is a much more interesting tour of the culture of New York's Hasidic community, where poverty is endured as some sort of test. Director Kevin Asch creates a compelling family life of affection and chaos and reminds us how the ritual of his religion is both calming and renewing as he grows more alienated from his world. His evocation of this world within a world, from the texture of tenement life to the social atmosphere of the community, is vivid enough to make you wish his storytelling was more compelling. Features commentary by director Kevin Asch and actors Jesse Eisenberg and Justin Bartha, interviews with Eisenberg and Bartha and five deleted scenes.
The Lemon Drop Kid (Shout! Factory) – Bob Hope is a race track tout who hatches a Christmas charity scam to pay off a Florida gangster in this minor but bright comedy. Hope is right at home cracking wise as the con man dodging debtors and a furious girlfriend (Marilyn Maxwell) while he organizes colorful New York underworld characters into an army of Santas collecting money for a bogus cause. Of course his scheming heart is melted into Danom Runyan sentimentality even as the local underworld bigwig (Lloyd Nolan) muscles into his scheme. The film works best as a comic character piece, with Hope at the smart-aleck hustler who is out of league when he runs into the big wigs and meets threats with quips and self-effacing wiscracks, but it also has a tendency to tip into cartoony comedy, as if he can't quite shake the "Road" movie persona. Frank Tashlin (the former Warner cartoon director, soon to be a feature director in his own right) co-wrote the snappy script (and reportedly directed reshoots) and Maxwell duets on "Silver Bells" with Hope in the film's contribution to Christmas carol posterity. Jane Darwell and William Frawley co-star, and watch for cult icon Tor Johnson. It's been on DVD before but this is a better looking disc than others I've seen.
Theater of War (Kino) – "Process is like bad acting," says Meryl Streep. "Process is not something you should let anybody see." But that's what you get in John Walter's documentary on the creation of the 2006 Public Theater production of Bertolt Brecht's "Mother Courage and Her Children," a new adaptation penned by Tony Kushner and starring Meryl Streep as Mother Courage: scenes of Streep finding her character in rehearsals, playing small, playing big, pushed over the cliff of melodramatic excess and then climbing her way back to the appropriate perch. Brecht set his play during the Hundred Years War but, written in 1939, it's more about the devastation of World War I and the anticipation of the coming World War II seen in Hitler's invasions, and like most great works of theater, can find echoes in every new generation. Interviews with Kushner, Streep, director George C. Wolfe and other collaborators (co-stars include Kevin Kline and Austin Pendleton in supporting roles) place this production in the context of the 21st Century, not just the wars waged in Iraq and Afghanistan and the still unhealed wounds from Vietnam, but the civil wars and genocidal campaigns in Eastern Europe and Africa nations in the past decades, while also discussing the contradictions within the character of Mother Courage herself, who engages in war profiteering to feed her family even as it the war destroys it. It's an interesting history less and Walter intersperses the reflections on this production and the behind-the-scenes footage of readings and rehearsals with more background on Brecht, the play and its earlier productions. Given all this material, I just wish I got a more probing look the creation of a production. The DVD features commentary by fellow filmmaker Michael Moore.
The Psycho Legacy (Shout! Factory), an original documentary by Robert V. Galluzzo, arrives the same day as the Blu-ray debut of Hitchcock's landmark horror classic, and curiously enough the material on the original Psycho is the least enlightening or informative part of the production. Given that Universal's special edition releases of Psycho on DVD and Blu-ray feature an excellent documentary and other supplements, that's not necessarily a problem, because the "legacy" in the title refers to the string of sequels that came out long after Hitchcock's death. New and archival interviews with the actors and filmmakers involved in Psycho II, III and IV: The Beginning dig into the origins and productions of these films and make the case for the series as a self-contained mythology. This may seem like sacrilege to Hitchcock purists (and they have a point), but it's a perspective that that this production takes seriously and it pays off with an appreciation of what the films do accomplish in their own right. Unfortunately, it's a rather crudely produced documentary without much art to the presentation or creativity to the chronological structure, but the breadth of interviews and topics makes it interesting enough, at least for fans of the sequels. The two-disc set also features hours of bonus material, including deleted and extended scenes, the full 41-minutes panel discussion with Anthony Perkins (from amateur video, seen only in brief clips in the documentary), a brief Psycho reunion panel from 2008, bonus interviews with Psycho II screenwriter Tom Holland, editor Andrew London and cinematographer Dean Cundey, and various featurettes on Psycho memorabilia and remembrances.
The Hangover: Extreme Edition (Warner) doesn't offer anything new, it simply basically repackages the previous DVD and Blu-ray releases (respectively) in a box with a CD soundtrack sampler and a 28-page "Wedding Photo Album" with photos that didn't make the movie. The trade-off is the bonus digital copy of the film of the earlier Blu-ray release (jettisoned for the CD, I guess).
Also new DVD: the nature documentary features Oceans (Walt Disney) and The Crimson Wing: Mystery of the Flamingos (Walt Disney), Tim Allen in The Six Wives of Henry LeFay (NEM), the horror remake Night of the Demons (Entertainment One) and the documentary Sun Behind the Clouds (Kino).