Modern Family: The Complete First Season (Fox) – In yet another Emmy year dominated by cable, Modern Family was the big network winner with five awards (including "Outstanding Comedy Series"). TV vets Steven Levitan and Christopher Lloyd update the classic American family sitcom with an extended family that is nothing of not diverse and contemporary.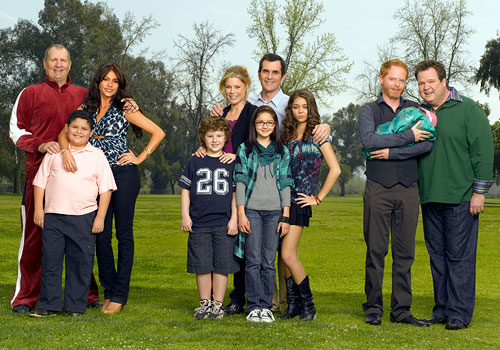 Patriarch Jay Pritchett (Ed O'Neill), by his own admission "not the world's greatest father," is on his second marriage, this time to a younger woman (Sofía Vergara) with an adolescent son and proud (and often comic) Colombian heritage. His daughter (Julie Bowen) is a suburban stay-at-home mom playing parent to her three kids and her husband Phil (Ty Burrell), his son (Jesse Tyler Ferguson), a self-conscious, anxiety-ridden gay man who has adopted a child with his far more flamboyant partner (Eric Stonestreet). It's classic sitcom stuff, with episodes revolving around birthdays, anniversaries, the shooting of a family portrait and that old standby, a family vacation to Hawaii, and the stories even somewhat conventional, but they're no Brady Bunch. Sure, the episodes end in a heartwarming reflection on family life, but their stresses are definitely that of the modern family.
Along with the 24 episodes of the debut season on four discs there's a marvelous featurette with the writers and creators (along with members of their families) sharing the real life inspirations to episodes throughout the season and interviews with the members of the cast talking (rather briefly) about their lives and careers before "Modern Family." There are also behind the scenes featurettes on the making of a couple of key episodes, deleted, extended and alternate scenes and deleted family interviews. The new season begins in October.
Community: The Complete First Season (Sony) – "If I wanted to learn something, I wouldn't have come to community college." When glib, wisecracking lawyer Jeff Winger (Joel McHale) has his license to practice law suspended for lying about his college degree, he goes back to school to get his BA in the most painless, effortless, cheapest way possible: community college. He figures he can just fake his way through and starts by hitting on the serious campus hottie, Britta (Gillian Jacobs), by pretending to be the "board certified tutor" of a Spanish study group. Before he knows it, the fake group has been filled with a colorful cross-section of back-to-school stereotypes: the divorced mom (Yvette Nicole Brown), the tightly-would overachiever (Alison Brie), the intellectually-challenged jock (Donald Glover), the socially awkward nerd (Danny Pudi) and the senior citizen (Chevy Chase) who provides the insensitive racist and sexist comments. And Jeff, against his better judgment, is the leader of this goofy club where little actual schoolwork is accomplished ("Remember when we used to study Spanish?") but all sorts of personal problems are batted around. Modern Family has been praised as the funniest new show of the 2009-2010 TV season but this one is more to my taste, and to my mind even funnier.
Created by Dan Harmon (of The Sarah Silverman Program) with Arrested Development veterans and sometime filmmakers Joe and Anthony Russo, Community is a smart, snappy comedy, a perfect fit in the NBC Thursday night sitcom line-up with its mix of social satire, creatively exaggerated stereotypes and ensemble comedy; there's nary a gag that doesn't pay off with a volley of punchlines that bounce their way across the group. It's skewed version of the classic college show and it features some of the most inspired movie references and parodies on TV, right down to riffs on GoodFellas, Good Will Hunting and one hilarious episode that evokes every zombie movie and survivalist action thriller ever made. The humor skews toward young adult sensibilities with its style and subject matter but its humor spoofs young and old alike. It has my vote for funniest show of last season. 25 episodes on four discs, with extended versions of two episodes, commentary on every episode, outtakes and three mini-episodes. The new season begins days after the release of this set.
Bored to Death: The Complete First Season (HBO) – Jonathan Ames (Jason Schwartzman) is not what you'd call a hard-boiled detective. A neurotic New York novelist who has retreated into recreational substances and self-absorbed malaise due writer's block and lost the love of his life (Olivia Thirlby) as a result, he becomes an unlicensed private investigator (advertising solely through Craig's List), even though he learned everything about his second career through pulp novels. The HBO half-hour comedy, created by novelist Jonathan Ames (yes, he named his protagonist after himself), is a self-aware mix of private eye conventions, modern fiction, urban malaise and intellectual disconnection. Schwartzman is his usual pleasantly affected self but Ted Danson is brilliant as a magazine publisher going through a mid-life crisis and Zach Galifianakis is his best friend, a struggling cartoonist trying to keep his own marriage from falling apart. 8 episodes on two discs, with commentary on four episodes by Ames and members of the cast, two featurettes and deleted scenes.
Castle: The Complete Second Season (ABC Studios) – The second season of the comic-tinged cop-and-civilian mystery series settles into its formula very comfortably this season. There are high-concept murder mysteries with splashy victims, enigmatic clues, oodles of suspects and tangles trails of evidence, all of which is chased down by tough and sexy police detective squad leader Kate Beckett (Stana Katic) with best-selling mystery author and hopelessly flirtatious ladies man Richard Castle (Nathan Fillion, all fun-loving spirit) tagging along, tossing out quips non-sequitors along with his writer's knack for observation and plot construction. If this were a story, how would he write it?
This isn't Ellery Queen or Agatha Christie, however. In a culture of dark, geek-speak procedurals, this owes more to the playful banter and self-awareness of Moonlighting. And its not all in the sexual charge between two attractive leads with great rapport and a lot of close quarters work. Castle not only has a way of dragging pop culture and meta-narratives into the procedurals, he develops a different kind of bond with the two detectives on Beckett's team, Esposito (Jon Huertas) and Ryan (Seamus Dever), just a couple of guys with their own buddy banter. He's a doting father to his whip-smart teenage daughter Alexis (Molly C. Quinn), the young adult to his big kid (and my favorite single father-daughter relationship since Veronica Mars), and even his flinty relationship with his drama queen of a mother (literally, she's a Broadway veteran aged out of leads now struggling for any role she can get… not that she'd admit it) warms up under the volley of smart remarks. That makes up for many of the colorfully improbable plots and the slips in Beckett's character. For a supposedly tough cop she turns awfully soft in the interrogation room as she sets up softball questions for suspects to lay out exposition and Castle to deliver punchlines. Let's face it, she's no Closer.
But for me, the romantic tension is secondary to the friendship: Castle and Beckett really enjoy one another's company and that affection comes out even stronger this season. Creator Andrew W. Marlowe has honed in on what makes the show work, and it's all in the personality. In some ways it's the police procedural answer of Bones, another show where elaborate and strange mysteries are there largely to create interesting situations for the characters and where one of the characters turns experiences into fiction, including a fictional affair between the characters of the novel. That show has found a winning formula in creating a love affair between characters expressed in loyalty, friendship and a protectiveness that reveals itself in every action and decision. Castle could take a lesson: what makes both shows so enjoyable for me is spending time in the company of clever, colorful, passionate people who so clearly enjoy the company of one another. That kind of screen rapport is priceless.
In terms of narrative direction, the unsolved murder of Beckett's mother is resurrected in a case involving a hired assassin, Dana Delaney guest stars as a veteran FBI serial killer profiler in a two-part episode with a psycho who has a fixation on Nikki Heat (Castle's fictional detective based in part on Beckett) and Michael Trucco (Anders from Battlestar Galactica) arrives at the end of the season as Det. Tom Demming, the handsome and charming new guy on the robbery beat. The attraction is palpable and Castle becomes jealous and even competitive, as only Castle can. And for Fillion (and Joss Whedon) fans, the Halloween episode "Vampire Weekend" lays in references to both Firefly ("Space cowboy!") and Buffy in the first five minutes. The DVD features 24 episodes on five discs, with the usual featurettes, deleted scenes and bloopers.
The garish, grotesque and shamelessly exploitative Spartacus: Blood And Sand – The Complete First Season (Anchor Bay), my vote for the worst show of 2010, is reviewed here.
Also new is 30 Rock: Season Four (Universal) and here's what arrived on my doorstep that I didn't have time to see: a new edition of Joseph Campbell and The Power of Myth with Bill Moyers (Athena), Emmy-winner The Big Bang Theory: The Complete Third Season (Warner), Desperate Housewives: The Complete Sixth Season (Disney), The Mentalist: The Complete Second Season (Warner), Criminal Minds: The Fifth Season (Paramount), The Guardian: The Second Season (Paramount), Law & Order: Special Victims Unit – Year Eleven (Universal) and from Britain, the 1984 series Mr. Palfrey of Westminster: Complete Collection (Acorn).
For more DVD releases, see my picks for the week at my blog and my DVD column at MSN.