The best new release of the week is The Ghost Writer (Summit), which I review here for MSN, while the most enjoyable special release is a toss-up between the new DVD edition and the Blu-ray premiere of the original Roger Corman-produced Piranha, which I review on my blog here, and the box set Turner Classic Movies Spotlight: Errol Flynn Adventures (Warner). And there are more sets than I have time to cover as completely as they deserve: The First Films Of Akira Kurosawa (Eclipse Series 23) (Criterion), The Kim Novak Collection (Sony) and a massive Elvis 75th Anniversary DVD Collection (Warner) and more modest Elvis Blu-ray Collection (Warner). But given all that, the big release this week will surely be Kick-Ass (Lionsgate).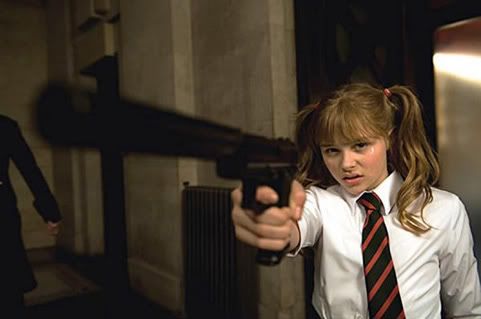 Kick-Ass is a comic book movie with a killer premise: what if regular people in the real world became costume vigilantes like the superheroes in comic books? Based on the uber-violent comic by Mark Millar and John Romita Jr., this film tosses a high school teenager (Aaron Johnson) into a crime-fighting culture he isn't the least bit prepared for, and then pairs him up with an adolescent schoolgirl (Chloë Grace Moretz) who has been trained by a mentally unbalanced (yet absolutely loving) father (Nicolas Cage) into becoming a ferocious filling machine. Yeah, it's completely f*****d up, and that's what is both right and wrong with the film. Your appreciation will depend in how much you can appreciate it's utter wrongness as a twisted virtue. Or how much you appreciate Nicolas Cage's impression of Adam West's Batman. Matthew Vaughn directs with plenty of brutal black humor, but he can't quite follow the real-world blowback all the way down the inevitable spiral of doom. For all the collision between adolescent fantasy and material world reality, it's just another kind of superhero fantasy, but with more blood and expletives along the way.
The DVD features a solid commentary track by director/co-writer Matthew Vaughn and the featurette "It's On! The Comic Book Origin of Kick-Ass" (with creators Mark Millar and John Romita Jr. and others discuss the project's inspiration and the collaborative process), plus a gallery of production art. The Blu-ray supersizes the supplments. In addition to the audio commentary is the "Ass-Kicking Bonus View," which reverses the usual audio-video commentary approach by filling the screen with on-screen commentary by Vaughn intercut with cast and crew interviews and behind-the-scenes footage while the film plays a reference track in a corner of the screen. "A New Kind of Superhero: The Making of Kick-Ass" is a four-part documentary that played straight through (and there is a "Play All" function) is almost two hours long, filled with the kind of detail that genre-junkies crave: stunts, special effects, sets, locations, and lots of interviews with the cast and crew taking on the extreme nature of the comic book material. The Blu-ray edition also features the usual interactive BD-Live functions and includes a bonus DVD and digital copy of the film for portable media players.
Jacques Audiard is making the most interesting crime dramas in France today and A Prophet (Sony), a prison tale of French-Arab-Corsican teenager Malik (Tahar Rahim) dropped into the shark tank of the predatory prison culture, is a riveting portrait of a prison education. Accepted by none of the tribal gangs because of his mixed blood (and, they assume, mixed loyalties), he accepts the offer of playing the lowly assistant to Cesare (Niels Arestrup), the head of the Corsicans and the guy who essentially runs the prison… just as soon as he murders the Muslim prisoner who mentors Malik in the necessity of educating himself. Rahim plays Malik with a mix of emotional panic and survivalist focus: he puts on a hard mask, keeps his eyes and ears open, learns the dynamics of power and control and makes it work for him as he moves between the ethnic gangs that refuse him membership and respect. Patience is just one of the skills that allows him to takes is place in the power structure.
The film is in French, Arabic and Corsican with English subtitles and it's good to keep an ear cocked for the shifts from one language to another; the language spoken is as important as what is said and who is saying it. Winner of the Grand Jury Prize at the 2009 Cannes Film Festival and an Academy Award nominee for Best Foreign Language Film. Features commentary by director Jacques Audiard, actor Tahar Rahim and co-screenwriter Thomas Bidegain (in French with English subtitles), four deleted scenes, video rehearsal footage of three scenes and five separate screen tests with Rahim on both DVD and Blu-ray.
Towards Zero (L'Heure zero) (Zeitgeist) is a classic Agatha Christie mystery a la French cinema: murder among family and friends at the seaside manor of a rich old aunt (Danielle Darrieux), where grudges and motives abound and the clues are plentiful and misleading. This colorful adaptation plays like a big-budget version of the murder mysteries of the British small screen, no more cinematic but more lavish and filled with offbeat humor and character quirks. Laura Smet is entertaining as the tempestuous and just plain rude second wife of rich kid athlete Melvil Poupaud, who spends the weekend trying to win back his melancholy ex (Chiara Mastroianni). François Morel works too hard to give his Inspector role some personality, but the background antics of servants Valériane de Villeneuve and Paul Minthe provide better (if almost as contrived) comic relief. French with English subtitles, no supplements.
Also new this week: After.Life (Anchor Bay) with Liam Neeson having questionable relations with the lifeless body of Christina Ricci, Diary of a Wimpy Kid (Fox), Happiness Runs (Strand), The Dungeon Masters (MPI) and The Patterns Trilogy + Other Short Films by Jamie Travis (Zeitgeist).
For TV on DVD for the week, see my wrap-up here. For the rest of the highlights, visit my weekly column, which goes live every Tuesday on MSN Entertainment.