Kino releases Wong Kar-wai's Happy Together on Blu-ray. I wrote on the film and the disc for Turner Classic Movies here.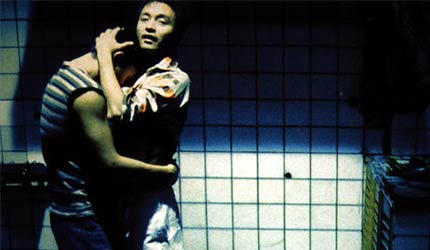 Where previous Wong films like Ashes of Time and Chungking Express fractured the narrative with staccato editing and shifts back and forth through time, Happy Together presents a fairly straightforward narrative (even if the story is anything but conventional) and a visual style defined by longer takes and striking handheld camerawork that brings the viewer intimately close to the characters. And while it focuses on a gay couple (itself quite daring in Chinese cinema, which shies away from explicitly gay couples in movies and prefers suggestion to announcement), its portrait of characters who love each other but are combustible when together isn't limited by the sex of the characters. They can be cruel, manipulative, dismissive and vindictive, but they are alive and vital. Cheung is all emotional impulse and convincingly reckless and self-destructive as Ho, a man used to seducing his way through life with his boyish beauty. Leung is more thoughtful and sad as the quiet, introspective Lai, whose ruminations provides the melancholy narration. "I always thought I was different from Po-wing. It turns out lonely people are the same everywhere."
Ultimately, the film is about loneliness and disconnection, feelings exacerbated by being stuck so far away from home, in a culture that speaks a different language and dances to a different tune. Slow, sad tangos (predominantly Astor Piazzolla's melancholy "Tango Apasionado") sets the tone and the temperament of the film. It's not always pleasant to be in their company and on initial viewing the characters can come off as emotionally brutal and callously manipulative, but under these actions they are vulnerable, yearning, fumbling people who genuinely love one another but keep falling into the same destructive patterns.