The grade-A release of the week is Shutter Island (Paramount), Martin Scorsese's adaptation of the Dennis Lehane thriller, which I spotlight in a featured review in my DVD column for MSN, and I go in-depth on the new Bob Hope: Thanks For the Memories Collection (Universal) box set on my blog here.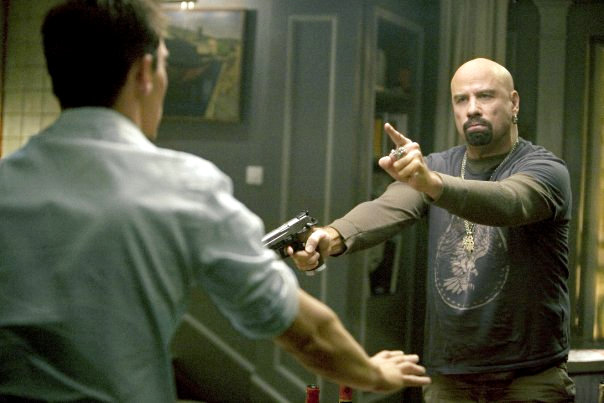 But for this entry, I'm going to give some love to the B-movie of the week. From Paris With Love (Lionsgate), starring John Travolta as a cowboy of an American agent and Jonathan Rhys Meyers as an ambitious but untrained low-level agent assigned to assist, is another of Luc Besson's English language Euro-action films, the contemporary equivalent to the drive-in action movie of decades past. As a producer, Besson has perfected the formula in a string of unpretentious but adrenaline-boosted movies: American/British stars in an otherwise French production, a simple narrative without subplots or distractions, launched into with very little preamble and then carried on without taking a breath until you arrive at the end of the ride. This is simply another variation.
In this one, Rhys Meyers is James Reece, an ambitious young CIA agent whose cover is top aide to the American Ambassador in Paris, but he wants to do more than just plant bugs in political offices. He gets his chance when he's assigned to drive American agent Charlie Wax (Travolta, head shaved and attitude cranked up to insufferable insolence), the runaway Brahma bull of the agency whose unorthodox methods and brazen approach utterly flummoxes Reece, whose organizational skill and tactical smarts (hey, the guy plays chess) have been duly established. Where Reece tries to reason his way through, Wax simply reacts. It's both a classic mismatched buddy action movie transplanted to Paris and a French idea of an American action movie abroad. There's a subtext of American arrogance and recklessness that leaves a trail of destruction and bodies in its wake, but the satirical undercurrent is rather undercut by the fact that this wild man agent is always right and nary an innocent gets harmed in his seemingly cavalier approach to violence in public spaces (including but not limited to blasts of machine gun fire and unleashed rocket launchers). And finally the simple visceral charge of the action carries the film past all moral quandaries. Director Pierre Morel keeps the film moving with clean, stylish efficiency and well-modulated momentum, and on a budget that should shame American action movie producers. It's pure pulp and it nobody here pretends it is anything more, and frankly his efforts as a producer are more fun than his directorial outings.
Both the DVD and Blu-ray editions feature commentary by Pierre Morel and a 26-minute making-of featurette (both of interest to fans only) and a couple of light featurettes on modern day covert ops. Exclusive to the Blu-ray is a "BonusView" video version of the commentary (which is merely an inset video of the director talking through the film), a couple of interactive time-waters and the usual interactive BD-Live functions, plus a bonus standard definition DVD and a digital copy of the film for portable media players.
Shinjuku Incident (Sony) – Jackie Chan may be reduced to childish slapstick (The Spy Next Door) or harmless sentimentality (The Karate Kid) but in Hong Kong he still has his dignity and ambition to make something a little more substantial. Here he takes on a rare role where he doesn't play a martial arts superman. Chan is an illegal Chinese immigrant who flees to Japan in the mid-nineties, just an honest peasant looking for his old village sweetheart and an honest day's work who turns into a morally-driven Scarface to protect his fellow immigrant from being preyed upon by both the cops and the triads. It's an unusual role for Chan, an idealist who turns assassin to build his power base, then tries to play the benign Godfather of Shinjuku District while his people turn into the thugs they've replaced, and the film never quite manages to sell the character as such. But even if the film shies away from confronting the moral contradictions of his precarious position, writer/director Derek Yee lets the contradictions and (perhaps willing) ignorance of his own gang's corruption stand in contrast to the actor's self-image. Chan plays it all with restraint (which, to be honest, is the only tool in his repertoire outside of physical dynamism and mugging slapstick) and lets his impassive front suggest protectiveness, thoughtfulness and strength of character while he steels himself to meet the ganglords on their own terms. While the film never allows Chan to completely slip into villainy, it transforms Honk Kong heartthrob Daniel Wu from likable kid and victimized innocent into a vicious punk with a drug habit, a second-rate Joker face and a serious case of disrespect.
It's more social drama than gangster movie, but there is plenty of violence, all of it of a furiously sloppy and savage nature of street thugs. A far cry from the action-blast of the glory days of Hong Kong action cinema, I admit, but appropriate to the movie; these aren't martial arts masters in cage-match duels, but street criminals with sticks, rock, knives and short swords swinging for all their worth. The disc features the original Chinese language soundtrack (where the language barrier between the Chinese immigrants and Japanese criminal hierarchy comes across more convincingly) and an English dub track, which is typically slapdash but at least Jackie dubs his own dialogue. Also includes a generic featurette and eight minutes of select scene commentary by Chan.
"From the creators of Spamalot," announces the cover of Not the Messiah (He's a Very Naughty Boy) (Sony), Eric Idle's musical reinterpretation of "Life of Brian" by way of Handel's "Messiah," but this production—a comic oratorio with orchestra, chorus and five featured soloists—is less musical theater than concert performance. Eric Idle takes his place with the soloists (at one point doing a Dylan-esque folk song with incomprehensible delivery) and Pythons Michael Palin, Terry Jones and Terry Gilliam all make brief guest appearances (no John Cleese, sadly, but Carol Cleveland shows up). It's a better as a concept than a show, but Python fans will enjoy anyway. Scenes from the movie are transformed into song ("What Have The Romans Ever Done For Us?"), Python bits scattered throughout the libretto and the "Always Look on the Bright Side of Life" finale is followed by a lumberjack coda. With a half-hour look at the rehearsals and preparations, two very brief featurettes and six sing-alongs.
Patricia Highsmith is the literary queen of unbalanced psyches and delusional citizens who obsessively drive themselves to self-destruction and The Cry Of The Owl (Paramount) is one of her sharpest novels. Claude Chabrol adapted it in 1987 and now writer/director James Thraves brings it the screen in an American (well, Canadian, anyway) adaptation of the U.S.-set story. Paddy Considine is a depressive peeping tom and Julia Stiles as the object of his gaze here. It's not a love story, mind you, but Considine's sad sack is a harmless fellow just trying to find some calm in an emotionally stressful life. It only gets worse once this sweet, yearning girl falls in love with him and her jealous ex-boyfriend (James Gilbert) and his sadistic ex-wife (Caroline Dhavernas) really do a number on him, body and soul. Thraves preserves the doom and the emotional irrationality of Highsmith in this remarkably faithful adaptation, but never manages to capture the terrible helplessness and hopelessness of his ordeal, leaving only a curiously dispassionate portrait of a story that is all emotion unchecked by reason.
Also notable is Word is Out (Milliarium Zero), the landmark 1977 documentary about lesbian and gay identity debuting on DVD in an edition with follow-up featurettes on the film, the filmmakers and participants in the project, and TCM Spotlight: Charlie Chan (Warner), four-disc set featuring the last three films starring Sidney Toler as Chan and The Chinese Ring (1947), which marked Roland Winter's debut in the series (he became the third Caucasian actor in a row to take the role of the Chinese detective from Honolulu). 180° South: Conquerors Of The Useless (Magnolia), Toe to Toe (Strand) and Animation Express (Image), featuring award-winning and acclaimed films from the National Film Board of Canada, also arrive this week.
For TV on DVD for the week, see my wrap-up here. For the rest of the highlights, visit my weekly column, which goes live every Tuesday on MSN Entertainment.