"Don't worry about me. I am made of strong stuff." In The No. 1 Ladies Detective Agency (HBO), American jazz singer Jill Scott plays Precious Ramotswe, a Botswana woman of "traditional proportions. Many men like that." (Plus-sized Scott admits to having to put on weight for the part, and even then wear a little extra padding). She puts a bad marriage and an abusive husband behind her to start her own detective agency on the outskirts of Gaborone, the capitol of Botswana, thanks in part to the blessing of her father, whose moral support is bolstered by a substantial legacy he leaves her upon his death.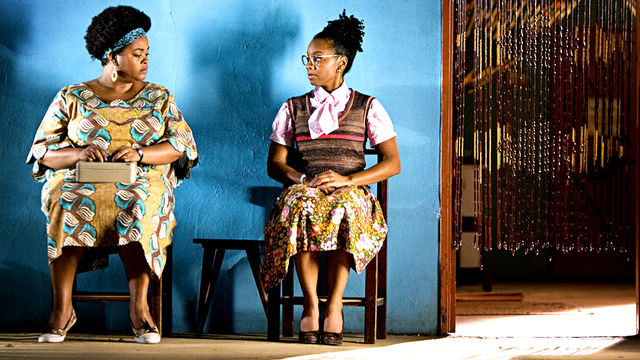 Based on the hugely popular novels by Alexander McCall Smith and developed for TV by Anthony Minghella, who directed the feature-lengthy pilot (it was the last film he directed before his premature death), this is as gentle and colorful a mystery series as you will ever find. Set and shot in the southern African nation of Botswana, the episodes follow the efforts of the newly single Precious to carve out an independent life in the nation's capital and put her unheralded skills of observation and her keen understanding of human behavior to work to find justice, a concept that she defines in the most human terms.
Scott makes Precious as warm as she is wise, not just the best (and, yes, the only) lady detective in the country but the most compassionate problem solver on TV. She's something of an Earth mother, open to all who come her way but protective of her independence, which frustrates the romantic impulses of local mechanic JBL (Lucian Msamati), a good man and a perfect gentleman who has his own skills of observation. Anika Noni Rose (of Dreamgirls) is great fun as her efficient, somewhat stiff and seriously tart-tongued secretary and junior partner, Grace. She scored top marks in her secretarial college, a statistic she reels off at every opportunity, and is duly suspicious of those pretty girls in short skirts who lands jobs despite their low marks and unprofessional attitudes. Grace has an attitude all her own, but is loyal and proud of her contribution to the business, even if she isn't one to say so. For a woman frustrated by those who judge upon appearances, she has her own hang-ups about propriety and proper behavior and appearance.
This is a rare mystery series where murder is rare and violence almost unseen. Her cases more often than not involve missing persons, wayward husbands, small robberies, petty fraud and such. Which is not to say that Precious doesn't face her share of threats, from a local gangster (guest star Idris Elba) whose use of dark superstitions makes him a suspect in a series of child disappearances to her abusive former husband (Colin Salmon), a philandering, drug-addicted jazz trumpeter who returns to threaten her once more in the final episodes. But even with these darker threads in the weave, this is a bright, gentle show with larger than life figures and small-scale dramas that end, more often than not, with Precious bringing folks together and clearing the air of misunderstandings and unacknowledged grudges.
This is completely family friendly, not the first thing you'd expect from an HBO original series (it's a co-production between HBO and the BBC). There is no sex (her romance with the gentle mechanic JBL is perfectly chaste and proper) or onscreen violence and no objectionable language. In fact, the dialogue is one of the delights of the show, filled with local words and phrases and practically sung in the lilting accents of the region. Shot on location in the streets of Gabrone and the landscape of rural Botswana, full of cultural color, populated largely by local performance and filled with a rich mix of local music, it adds fresh flavors to the TV mystery tradition. Minghella and his producing partner, Sydney Pollack, died after completing the feature-length pilot but co-screenwriter Richard Curtis helped steer the course of the subsequent episodes, all of them adapted from Smith's novels. Acclaimed British TV drama veterans Charles Sturridge (Brideshead Revisted) and Tim Fywell (Cambridge Spies) helm a couple episodes apiece. The series ends with hints of more complications to come, but to date there has been no word of a second series.
Seven episodes on three discs in a sturdy fold-out digipak in a slipsleeve. The half-hour Anthony Minghella's No. 1 Film is informative but slow and the 11-minute Making The No. 1 Ladies' Detective Agency is snappier but briefer, reflecting the style of the respective creators: The former looks to be a BBC production and the latter produced by HBO. Botswana: The Gem of Africa offers a lively introduction to the history and culture and distinctive language of Botswana and Jill Scott narrates The Beat of Botswana, about the music of the country. Each episodes also features "Author's Diary: Alexander McCall Smith," a brief  reflection of the origins of the respective stories by the novelist.