Tetro (dir: Francis Ford Coppola)
The Francis Ford Coppola of old is back, or at least that's what Coppola kept telling us in his barnstorming media blitz of the past month and what the reviews keep repeating. Tetro is Coppola's first original screenplay since The Conversation in 1974. It's the second film in his return to "personal films," after Youth Without Youth. It's cinematically adventurous and visually entrancing, and the Greek drama by way of Tennessee Williams story of brothers, father and sons struggling for acceptance and affirmation is inspired by (if not actually drawn from) his own family. You can feel Coppola reaching for the personal expression he grasped for throughout the seventies and gave up after the financial disasters of Apocalypse Now and One From the Heart. I really want to love this film as much as he does.
In this archly melodramatic tale, Vincent Gallo tempers his often tetchy screen persona as the emotionally scarred son of a arrogant and self-absorbed classical music conductor (Klaus Maria Brandauer), a man who ruthlessly cultivated his reputation and his ego at his son's expense. "Angelo's dead. My name is Tetro," he proclaims to his adoring kid brother Bennie (newcomer Alden Ehrenreich), who has tracked Tetro to a Buenos Ares neighborhood a decade after he fled his father and abandoned Bennie. By turns sullen, compassionate, indignant and just plain angry, Gallo's Tetro is a modern take on a tragic victim, a would-be writer whose autobiographical scribblings became too painful to continue. It's in those allegorical stories – which seem to be all self-serving metaphors passing as literature – that Bennie searches for the story behind Angelo/Tetro's flight from family.
Coppola modulates intimate scenes and mercurial changes in temperament like a master conductor bringing a delicate touch to a bombastic score, drawing rich performances from Gallo and Maribel Verdú (as Tetro's protective girlfriend) and a complex emotional relationship between this unusual but thoroughly convincing couple and Ehrenreich's Bennie. Shot in luminous black and white (with flashbacks and fantasy erupting in color) on digital video, it is a lovingly crafted and visually exquisite film. As they drive to Patagonia for a theater festival, the frozen glacier mountains sparkle of diamonds. Stories of Tetro's terrible clashes with and betrayal by his father are reflected through Bennie's mind as ballet set pieces a la Michael Powell's dance film Tales of Hoffman, a film that Tetro introduced to Bennie in the days before his escape.
But even the most deftly executed scenes are smothered in the Oedipal weight of past betrayals while they struggle to support the operatic melodrama that unfolds. It's a personal film, no doubt; Coppola claims the roots were drawn from the contentious relationship between his father and his brother. But there is no resonance as he unveils past tragedies and terrible betrayals of trust, only a kind of incredulity as he heaps all this weight on the tormented Tetro and sinks the film under the pretensions of his Greek drama in modern dress. By the end of the film, I just kept thinking how much Coppola the director would be better served by a better screenwriter.
This review is also published on the Seattle PostGlobe.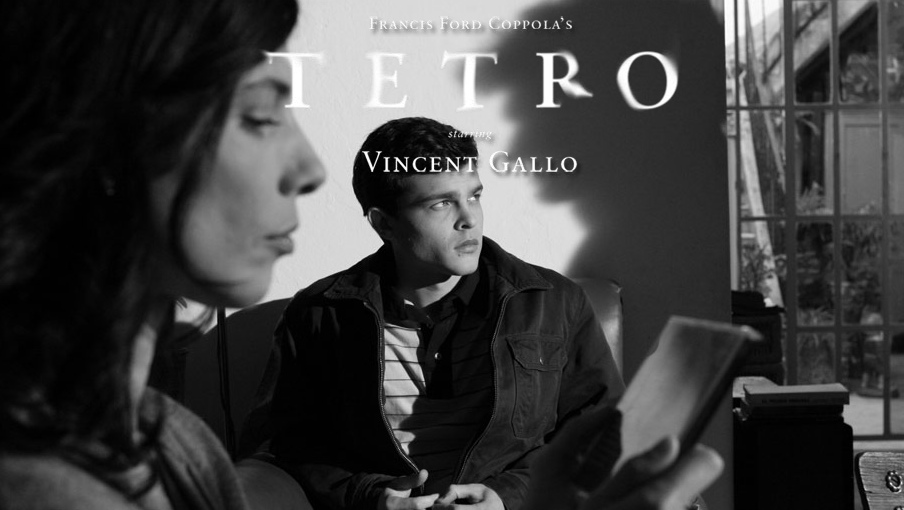 Directed by Francis Ford Coppola; screenplay by Francis Ford Coppola; featuring Vincent Gallo, Alden Ehrenreich, Maribel Verdú, Klaus Maria Brandauer, Carmen Maura. Not rated. 127 minutes.