Rudo Y Cursi (dir: Carlos Cuaron)
Rudo (Gael García Bernal) is a fearsomely aggressive goalkeeper who thinks he's a gambler. Beto (Diego Luna), aka Cursi (which means "corny"), is a talented striker who thinks he's a singer. Their talents lay on the field, but they're pretty ill-equipped to deal with anything off the pitch: relationships, career, reality.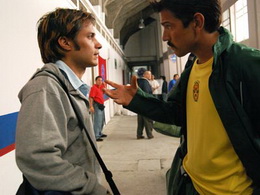 The half-brothers are country rubes dropped into the dazzle of the big city and media stardom, take their eyes off the ball on their whirlwind rise to fame and short-lived fortune. Beto is a dreamer who wants to springboard his soccer fame (football to the rest of the world) into a singing career. His cover of Cheap Trick's "I Want You to Want Me" (accompanied by accordion) is as corny as the cheeseball music video that accompanies it – no wonder he got the nickname Cursi. Rudo takes his soccer more seriously and is indignant when Beto is recruited over him, but he's no smarter or self-aware than Beto and he's far more self-involved.
Their tale is narrated by Baton (Guillermo Francella), a freelance scout/manager/hustler who beats the bushes of Mexico's backroads looking for diamonds in to rough playing on rural squads and company teams, and getting them berths with a mixture of fast talk, kickbacks and blackmail. He's seen it all and his shrugging attitude sets the matter-of-fact tone of rampant corruption, opportunism, fleeting fame and fickle fandom.
Rudo Y Cursi is a familiar story with an awfully predictable spiral to disaster, but Bernal and Luna (reuniting for the first time since Y Tu Mama Tambien) are completely invested in the characters and their dreams, and invest the sometimes contentious fraternal bonds with a convincing dynamism: with Bernal's scrappy, arrogant, intense Rudo always competing with Cursi, and Luna's happy-go-lucky Cursi using his good fortune to deliver Rudo his dreams. Given the inevitability off their hard fall, you could say that the film still manages to deliver a kind of happy ending to these boys after all. Maybe a little sadder, certainly no wiser, but pretty good for a couple of hicks from the sticks.
Also published on the Seattle PostGlobe.
Directed and written by Carlos Cuaron; featuring Gael García Bernal, Diego Luna, Guillermo Francella, Jessica Mas. Rated R for pervasive language, sexual content and brief drug use. In Spanish with English subtitles. 103 minutes.