2007 has been a good year for me. This year I passed the 12-year mark in Seattle, making this the longest I've ever lived consecutively in one city. I developed a taste for gunpowder green tea and yellow curry, thanks to an Asian market that opened right next to a nearby multiplex. I discovered a few new authors (thank you, Arturo Perez-Reverte and Tonino Benaquisto, for joining my list of favored writers) in between continuing my run through the Spenser novels of Robert Parker and completing Neal Stephenson's "Baroque Cycle." I continued my reengagement with comics and graphic novels through bound collections of both mainstream titles (the J. Michael Staczinski-penned "Spider-Man" comics and the "X-Men" issues by Joss Whedon and Grant Morrison) and indie series (the brilliant "Powers" by Brian Michael Bendis and Michael Avon Oeming and the comics-noir "100 Bullets" by Brian Azzarello and Eduardo Risso), thanks to a library system that actually carries these titles. I continued delving into garage rock past and present (with plenty of help from Little Steven's Underground Garage). I made an effort to be, however small, a part of the lives of my nieces and nephews and honorary godchildren (that's what happens to the single friends of married couples). And I finally launched my own website, thanks to the diligent efforts of my dear old friend Nick Henderson and my much newer friend Felipe Lujan-Bear. I'm still working on the rest of my 2007 New Year's resolutions, but I'm happy with the headway I've made so far.
And professionally, it's been a great year. After a decade of developing and writing my DVD column online, first for film.com and then for the IMDb, I approached MSN with a proposal to expand and enrich their coverage. My column went live in April and I've been writing a weekly column for them ever since. I also started writing for Turner Classic Movies in 2007, which I've greatly enjoyed, I continue to write for the Seattle Post-Intelligencer and GreenCine.com, and this year I attended my first Toronto International Film Festival, which is a film lover's paradise and the critic's keys to the kingdom.
I had grand plans for the week leading up to New Year's Eve, but I wound up taking it easy and focusing on things close to home – getting back into jogging, organizing my finances for taxes, cleaning house (literally – a near-complete top to bottom clean), and clearing out the clutter by hauling off all those things I'd been saving to donate. I called my parents to wish them a happy anniversary (I'm lousy with birthdays, but I always remember my parents' anniversary as it is on New Year's Eve) and listened to "Odyssey and Oracle" by The Zombies, a magnificent pop album released long after the band had broken up, with only one hit ("Time of the Season") but a unity close to perfection. I opened a bottle of Benton-Lane First Class 2003 Pinot Noir (from the Willamette Valley, my previous home), had a dish of spaghetti, and spent New Year's Eve repeating what has become my annual ritual: staying at home (avoiding the roads full of drivers under the influence) and watching the DVDs that I've been wanting and meaning to see for months or even years. This year, it was King Hu's Dragon Gate Inn, on a poorly mastered import disc with shoddy subtitles, yet was glorious enough to overcome those surface deficiencies. For those of you unfamiliar with the director, Hu is the godfather of the genre known as "wuxia pian," or romantic chivalry, and was a major inspiration of the Hong Kong New Wave and director Tsui Hark (who remade the film as Dragon Gate), and of the Oscar-winning Crouching Tiger, Hidden Dragon, which is practically a tribute to the films of King Hu.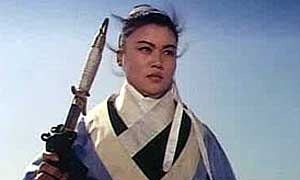 Dragon Gate Inn is a pure delight, a wild ride of an action film with a sprawling cast representing all sorts of forces who converge on the inn of the title, which lies open and exposed in the middle of the desert. An ambush is plotted by a powerful eunuch, but mysterious figures have, for various reasons, gathered to protect the targets of the assassination conspiracy. Swords flash, poison wine is spilled, arrows fly, armies clash, and rather humorous insults are thrown at the eunuch. Yet it was one otherwise unmemorable moment of the film, a slow track forward in POV shot of the warrior heroine creeping up on the occupied inn of the title, that sparked a purely reflexive response in me: damn, how I love a slow tracking shot, one that creeps with such deliberation that you feel transported into the movement. It started me thinking about those techniques and conventions and details we otherwise take for granted, yet transform otherwise mundane films into visceral experiences, and in the hands of an artist can be turned into transformative moments.
So I started cataloguing, off the top of my head, just a few things about the cinema that transport me, thrill me, engage me, excite me, stir me, and reward me – in films conventional and curious, good and bad, terrible and transcendent. I'm dedicated to exploring cinema for the good and the great, but there are so many things that me engaged in between that I felt compelled to list just a few…
Things I'm thankful for:
Howard Hawks – I could put any number of directors here, I suppose, but there is no single director whose world I find more comforting to visit.
The perfect match cut – I realized that I was not meant to be a director in college because I never really had a story to tell when I was making student films, but I could spend hours mucking about on the sloppy, pre-digital videotape editing deck of my college perfecting the editing of my rushes, alternately flaunting exaggerated shifts in perspective and angle and hiding cuts in the movement within the frame. (I might have turned out to be a good editor if I kept with it, but I ultimately found myself drawn to writing more than filmmaking, and I followed my impulses.) I'm still swept along by editing that follows the action to slide from shot to shot and carries the viewer along quietly through rhythms. It was during the third screening of John Woo's Hardboiled that I noticed how Woo used the momentum and vectors of action to guide his cutting in the opening restaurant shoot-out. It makes the runaway momentum feel even more out of control and chaotic, but Woo is in complete control.
Orson Welles – the director and the actor, the writer and the artist. His films were my first loves of cinema.
Film noir – surely the only genre defined as much as (if not more so by) style and attitude than iconography and archetypes and themes. Seriously, this is the only genre where quality makes the difference between a mere urban crime movie and a study in the dark heart of the American dream gone sour.
Burt Lancaster – still my favorite actor, a man who creates character with his whole body, whether it's the flamboyance of The Crimson Pirate or the deliberate stillness and threatening poise of Sweet Smell of Success.
The beauty of a lovingly crafted miniature – in the age of digital effects, I find myself drawn to the magic in the artifice of special effects of old, from the stop-motion model work of Ray Harryhausen to the magnificent miniatures and in-camera effects of Francis Ford Coppola's Bram Stoker's Dracula to the marvelous cityscape stomped by Godzilla and friends. It's not about "realism," it's about the expressive qualities of the art, and there is more personality and expression in these films than anything in "Beowulf." Even watching the buffed-up Blade Runner: The Final Cut is testament to the power of a beautifully detailed miniature to create a physical presence in a film. I've yet to see a digital effect that feels as palpable as the opening urban sprawl of the polluted future in the opening seconds of Blade Runner.
Wim Wenders – from Summer in the City to Faraway, So Close! he turned the road movie into his genre and created movies about the search of identity (personal, national, emotional, artistic, whatever) that have a permanent place in my canon: Alice in the Cities, Kings of the Road, The American Friend, The State of Things, Paris, Texas, Wings of Desire, and Until the End of the World, especially his complete, 280-minute "Trilogy" cut.
Widescreen – especially a frame filled by an artist who knows what to fill – and what to leave open – to tell the story of a scene through the image. I love to go back to the widescreen images of the movies of Nicholas Ray movies, with their dynamically composed visual theatrics, of Anthony Mann and his magnificent use of landscape to set the tone and tenor of his scenes, of Budd Boetticher's final Ranown films and the rugged, primitive worlds that seemed cut off from the rest of the world, and of Sam Fuller and his bold, kino-fist images punching their way through the widescreen. This year, Roger Deakins is the man who showed us just how to fill a widescreen in No Country for Old Men, In the Valley of Elah, and The Assassination of Jesse James by the Coward Robert Ford – three films that, at least visually, pare the image down to its essentials, like moving woodcuts of the American west then and now.
John Barry – the most lyrical of film composers, and the man who defined the James Bond sound.
The simplest of cinematic effects – while I can be dazzled by the imaginative and epic use of technically complicated and complex special effects to show me something I've never seen before, or give me a new perspective on something I thought I had seen before, there is something about that simple use of forced perspective or "cheated" cuts or any of those pre-digital techniques that never call attention to themselves, and thus force the audience to suddenly reassess what they are seeing. It's the kind of narrative surprise that gets harder to pull off these days, and yet Francis Coppola does it more than once in Youth Without Youth, a film that is full of filmmaking mojo just searching for a story worthy of its joy of cinematic creation.
Luchino Visconti – for The Leopard alone, and for so much more.
Genre – the comfort of conventions in a western or a gangster film or a melodrama, the malleability to the same conventions when pulled and pushed by a director with a different take, and the ability for both to coexist within the same film.
Gregg Toland and Vittorio Storaro – the men who make the images.
Foreign cinema as a window on a culture – not just any foreign movie, of course (I don't look to Luc Besson to understand the French sensibility… though maybe I should), but the way the cinema of Ousmane Sembene and Abderrahmane Sissako and Tian Zhuangzhuang and Ozu Yasujiro, simply the way they frame their shots and the time they take to show you what's going on, tells you more about the way a culture moves and interacts with their social and physical worlds than the stories themselves.
Martin Scorsese – for the passion of his films of the seventies and eighties.
Milestone Film and Video – and, while we're at it, Rialto and Zeitgeist and others who resurrect and restore the classics and put them back on the screen before the inevitable (but just as important) DVD release. And when it comes to DVD, add in Criterion, Blue Underground, Flicker Alley, All Day Entertainment, and Fantoma, just to name a few off the companies that take pride in the high quality of the masters and transfers of their films, going that extra mile to create something special in releases that, by their nature, will be ignored by the majority of the DVD-buying public. But back to Milestone: this is company that, in addition to their commitment to silent films and classics, takes the lead in adopting orphaned and forgotten films and championing them by reintroducing them to the public in the best possible prints, from I Am Cuba to the powerful 1971 collective documentary Winter Soldier to Charles Burnett's Killer of Sheep.
Busby Berkeley – the man who turned the camera into an essential element of choreography and turned dance numbers into mini-masterpieces of expressionist cinema.
Silent movies – an artform unto itself that communicates so much in its "limited" tools of image and intertitle. I am transported every time I see a silent film, especially those produced in the final years of the format, between 1925 and 1929, the apex of the art when even mediocre artists turned out beautifully crafted works off silky photography and performances made up of emotions poured forth onto the screen and coded communications running underneath. And that doesn't even touch the unappreciated art of writing intertitles, where exposition is laced through witty single-sentence frames. As a subsection to those things I am thankful for, add Le Giornate del Cinema Muto, the silent film festival in Pordenone, Italy. I've been three times and had to skip it in 2007. I hope to get back before the 30th annual event.
The power of images and performances and scenes to transcend films and filmmakers – I love how great moments can grow and flower, if only for a few brief moments, in even crappy movies. Pick your own.
And, finally, I am thankful that no matter how many films I see and how wide I cast my net, there will always be good and great and demanding films for me to see, past and future, until my own fade to black.
These are just a few of my favorite things, as the song goes, and on another day, inspired by another movie, taken with another mood, I might have gone in a different direction. But it all comes back to the joys of the movies that keep my coming back to the screen, be it big or small.
Have a great 2008!